What kind of dog is this?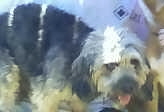 United States
August 13, 2007 1:45pm CST
I'm trying to figure out what kind of dog this is. At first I thought some kind of shitsu, but maybe something more in the terrior family? Does anyone have any idea? I know the picture is crappy but it's the best that i have right now. Thanks for any ideas!
5 responses

• United States
14 Aug 07
It kind of reminds me of the dog in some movies, Bengie but the dog in the picture kind of has a face with a bit of a Lhasa Apso mixed in it. Have you maybe asked a vet they would be able to tell you what kind it is even if it is mixed breed. Good luck and let us know what you find out and congrats on your new puppy.

• United States
14 Aug 07
Yeah, I never even thought about the Bengi dog! She does sorta look like that, but a bit taller! This is my friend's dog, but the mom to the puppy that we are getting so I was just kinda curious what kind of mix our puppy would be, and what it would look like. I'm so excited! LOL


• United States
14 Aug 07
Oh yeah, she is definitely a mutt, I just don't know what mixed with. She is the mommy to the puppy we will be getting. The daddy is a min-pin, so I'm trying to see if I could search this type of dog online with a min-pin and see if I can find a picture of what one might look like when bigger. The dog in the photo is not very big-- I would say maybe 25 pounds? Really short, and really fuzzy. LOL

• Panama
13 Aug 07
I think it might be a mixed and it certainly has some terrier background .Maybe a fox terrier?

• United States
14 Aug 07
My friend said she thinks it might be some type of terrier for sure. I will look up fox terrier and see if it's similiar. I'm trying to figure out what dog would look like if it's part terrier and part min-pin since the dog in the pic just had puppies with a min-pin. Right now the puppies look like the min-pin, but I'm not sure how they will be when a bit bigger. Thanks for helping!


• United States
14 Aug 07
Well I looked at her and I think she is Lhasa Apso/Yorkshire Terrier mix. She is very cute though!!!

• United States
14 Aug 07
Oh my goodness! I looked up a Yorkie-Apso and WOW that really does look like her! Now i need to see what one of these would look like crossed with a min-pin. Thanks everyone! here is the pic I found that looks just like her! http://www.dogbreedinfo.com/yorkieapso.htm

• United States
14 Aug 07
Yea I was Right!! Mixed with a min pin..Not to sure what that would look like. Should be cute though!!