Awesome Colored Clouds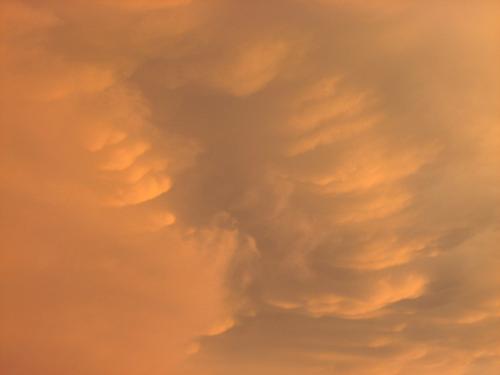 United States
August 13, 2007 1:48pm CST
We had a nice little storm come through the other day here in Minnesota USA. This happened around sunset. Now with the storm approaching and the sun setting I caught some cool looking clouds colored differently from the sun. I had a couple shown on one local TV news show and credited for it which was cool as well. Anyhow I just wanted to share some here with mylot members.Thanks in advance also. Enjoy my clouds. HAPPY POSTINGS FROM GRANDPA BOB!!~
10 responses

• United States
13 Aug 07
Wow Grandpa Bob! That is a GORGEOUS picture. I wish I could have been there to see it. The colors in the picture make it look like a painting. Mother Nature and the beauty she creates continues to amaze me on a daily basis. Keep up the wonderful photography!

• United States
13 Aug 07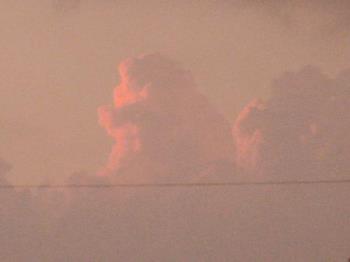 Thanks and heres another shot of the same beautiful way mother nature says, "Take my picture." I think they call these formations "thunderhead" clouds. HAPPY POSTINGS FROM GRANDPA BOB!!~

• United States
13 Aug 07
Oh my gawd. I looked at this shot and it kind of looks like the movie monster GODZILLA. Hahahaha!

• Australia
14 Aug 07
These are just beautiful. I rated your photo & wrote a comment. It's great they showed this photo on your local TV newes. Our news show people's weather photos during their weather segment.

• United States
14 Aug 07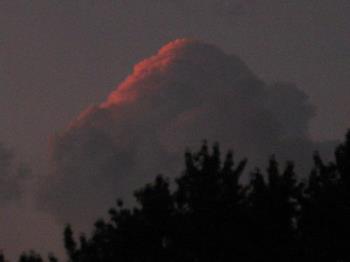 This one was just as the sun set beyond the horizon.

• United States
13 Aug 07
Thats a nice picture, thats cool about the tv station showing some of your pictures. I bought a digital camera on ebay last week. Its suppose to come today. I am really looking forward to getting it. I will then be able to post some of my pics too.

• United States
13 Aug 07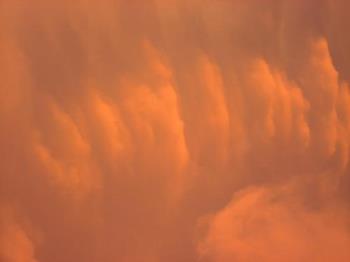 Oh I'd be lost without my Canon PowerShot A540 digital camera. Many a great shot taken with this. I want to move up the ladder but the funds aren't on my ladder steps. HAHAHA! And yet another great orange cloud formation. I love these pics and the orange hue from the sun setting. HAPPY POSTIMNGS FROM GRANDPA BOB!!~

• United States
14 Aug 07
Great picture. I find the variations of clouds and colors amazing sometimes. Storms make some really great skies. Congrats on having some of your pictures on the news. YOu do a good job!



• United States
16 Aug 07
How neat that your photo where on TV for all in the county to see. That is almost as good as being interviewed on the news. I was interviewed on the news once for the job I use to have. I was so afraid of looking stupid. I did not see myself. I will look at the photo after I post this.

• India
14 Aug 07
Hi!Well nature has its own beauty, which is incomparable & undescribable.It is beyond imagination & one gets lost in it when you sit to admire it.Often when you are at sea, or see a starlit sky, or you get the opportunity to watch a Sun-Rise on the snowy mountains,one can go on gazing & get lost & forget the world behind with all its worries & tensions.It is really amazing....the CREATION of GOD which MAN cannot match from any angle. GOD BLESS!! www.creatingcolourfulfuture.c

• Singapore
14 Aug 07
i love watching clouds and the sky in general. recently we had a really awesome sky of pink-orange clouds, cirrus clouds I think all scattered evenly across the sky. it was quite awesome and reminds me of the beauty of God's creation in this world.

• Canada
15 Aug 07
Truly beautiful Grandpa! My husband and I just returned from Cuba and they have a beautiful sunset there. It is fast, about ten minutes or less but lovely. We also saw some interesting storm clouds while we were there. Thanks for sharing this with us Grandpa! :)