Have you ever shaved yuor head competely?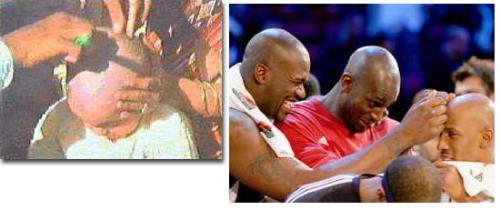 India
8 responses

• United States
15 Aug 07
Is this commonly praticed still? I ask because I have many Indian customers coming in at my new job and none have had this done to any of their children. Very interesting though! Thank you! I will keep this in mind it is a religious practice should I ever come across it. Might I ask why?

• India
15 Aug 07
Oh Tia!What a pleasant surprise after along time.How is your new job and how are you?I will be wishing you the beast always.Evn Will responded to this discussion and wanted to know why.I am giving you the same answer I have given to Will. In Hinduism, the underlying concept is that hair is a symbolic offering to the gods, representing a real sacrifice of beauty, and in return, are given blessings in proportion to their sacrifice.

• Singapore
15 Aug 07
Yes, that is when I was enlisted to army. Other than that, I've never done that myself.


• India
14 Aug 07
I did this a couple of times when i was small as i usually usd to go to Tirupathi in India . but these days I don't



•
14 Aug 07
I am a Hindu too but I don't think my parents ever shaved my head when I was a baby which is quite strange as all of my Bengali family friends and relatives had their heads shaved when they were babies... I might have to ask my parents why they never shaved mine LOL!

• India
15 Aug 07
May they were to busy or you might not be well at that time.Anyhow ask them for the reason.

• Philippines
5 Sep 07
i started to sing in a band when i was 17 years old and during that time sinead o'connor was really popular. i really wanted that hair cut but im not that sure if its going to suit me or if my mom will allow me to do that.... lol