Wheeeennnnnn????

Indonesia
5 responses

• Canada
14 Aug 07
It in September...and if you don't mind reading this. Next season is a prelude to season 1. It explains how everyone came into their powers and why they were chosen. I love love love Milo...so I am glad that he will still be there!

• Indonesia
15 Aug 07
So we're just counting days then to its premiere! Really great news, i've been waiting long to see it, it could be the next X-Men, agree? Milo?Yeah he is cool, but i kinda prefer Hayden instead...She's adorable ;)

•
14 Aug 07
The answer would probably be revealed or clues would be given in season 2. If I am not wrong and remember correctly the ending of season 1 seems to give a lead.... Hiro looking on to the eclipse when he went back in time in Japan.... maybe it's history stretches all the way back then...

• Indonesia
15 Aug 07
Yes, thats the thing, the ending from season one made me wonder, what does the Eclipse got to do with anything... COuld be like the other guys said, it may got to do with the origins of their power... Or maybe it could also be the origin of all powers, the first extraordinary powers ever found/revealed and how they spread to others...could be rite?:P

• Canada
15 Aug 07
According to Next-Episode.net, the season two premiere of Heroes will be on September 24, 2007. I can't wait as well! This will be the North American premiere - I'm not sure when it will premiere in other countries. Heroes will continue on from after where it left off. There will be a new series, called Heroes: Origins, that will talk about how the heroes got their powers. So there will be two separate Heroes shows for those of us who just can't get enough!

• Indonesia
15 Aug 07
So there will be 2 different series?? Thats Cool! So it would tell every single details of their life huh?Just can't wait!But I wonder when will it plays in my countries... *sigh*

• Malaysia
26 Aug 07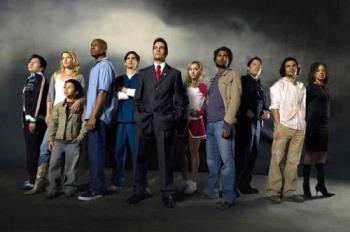 i can't wait for the next season! although i don't live in the US and that means we get tv series rather late, but still, i'm so looking forward to the next season. heroes is one of my favourite series ever:) ..oh, you can find out about the eclipse here;http://en.wikipedia.org/wiki/Heroes_(TV_series)

• Philippines
4 Sep 07
Although I have to be patient, I can't wait to see the next season this coming Sept. 24! I sure wish to have Hiro Nakamura's power to travel time and see what happen to the upcoming episodes! I'm not sure about the eclipse thing but kevsgirlalways is right about finding it in wikipedia.

• United States
15 Aug 07
Sept. 24, 2007, so be patient.