What do you think of fashion?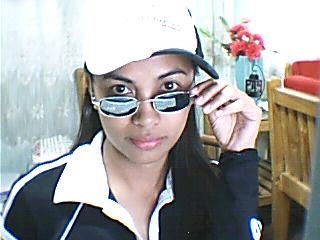 Portugal
August 14, 2007 6:20am CST
For me fashion is an art of expressing my moods. How about you, what do you think fashion for you? Is it really important in your life? Is fashion necessary to express your moods? Is fashion important in our life? What do you think is the essence of fashion?
7 responses

• Philippines
22 Sep 07
fashion is very important to me...i love it, the way you look and dress reflects your personality.

• Portugal
22 Sep 07
Hi sharine, nice to meet you here. I guess your a newbie to this site. So, welcome my dear friend.:) Exactly sharine. Fashion really reflects your personality. It is somewhat like a projector of who you are or what you are. Right sharine? I love it too. I am happy if I could have created a new fashion of my own again and again. I am enjoying it. Sometimes my cousins would be of telling me that I am a crazy girl. hahaha Coz I like creating my own style. hehe Hope to hear from you more sharine. Let me hear those experiences you have with fashions too. (smile)


• Portugal
22 Sep 07
Hi nardz13. Hmm. I love number 13, honest. hehe It's my lucky no. Yeah I like to wear a pair of jeans too, especially a tight strechible jeans. It is because, I feel comfortable wearing it. I can easily move whatever I like. hehe

• India
16 Aug 07
For me fashion is the way to express myself and my mood of the day. i totally agree with you that it is really important in the life of the person which clearly reflects its expression. for me fashion is not absoulute term, it must be seen in flexible way. anyways now fashion is not seen in person context only. isn't it.

• Portugal
17 Aug 07
Yeah definitely swatig. Fashion is everywhere. It is in everything. It depends how you express and present it. NIce one swat. LOve it... :) Thanks for responding and more power to yah. :)

• Guangzhou, China
16 Aug 07
I am not a fashion follower. Actually I don't pay attention to it. As long as the dress make me look beautiful and I feel comfortable to wear it, and it's already my choice. I don't care what dresses are popular at present. In fact I do think the dresses in the fashion show can't be worn in public:)

• Portugal
16 Aug 07
LOL You got it right! Anyway, your best choice is what matters most. We can not swallow the food if we don't like it; fashion is also like that. So what if we don't like to wear their stuff. We have our own fashion.LOL Anyway, they might just love us as simple as we are. Cheers!!! :)

• Indonesia
14 Aug 07
Fashion is really important for me. I always following the trends. But the trend doesn't suit with my personality, i won't follow it. Just knowing it. I always want to look fashionable without have to but expenxsive or branded clothes. I prefer to mix and match with the collections i have and sometimes combine it with scarf or necklace. Branded or expensive things doesn't guarantee that you will look amazing or something like that. Thank God with this skill i have (combining clothes) my boss often said that i can perform well. And i really thank God with this bless i've got. The essence of fashion is that i can perform well and comfort and look nice without any branded or expensive things.

• Portugal
16 Aug 07
Hmmm..nice idea too! Actualy, fashion has something to do with creativity too. So, go for it girl! Be the original!! Keep it up! :) Thanks for responding.

•
14 Aug 07
Fashion is a way for big companies to make money off mugs like us. I tend to just buy what I like rather than buy what's "in fashion". My husband is a bit of a fashion victim and loves to waste money on designer gear, whereas I prefer to buy things that suit me and that I feel comfortable with paying that amount of money for. My husband will pay £150 for a belt because it is Hugo Boss or £300 for a pair of Versace boots which will not last any longer than any other belt or boots but that's his choice to spend money that way. If by spending money on fashion he was depriving us of food or not paying bills, then I would have a problem. But we share all of our bills and the rest of our wages we either spend or save. Fashion for me really is buying clothes that I like even if they are not in fashion and even if other "fashion victims" would look down their nose at me for wearing "last season's colours!" :)

• Portugal
16 Aug 07
wow big time!!! LOL That is nice for you that you could really catch the trend. So sweet couple...flying in the same feathers huh. Awww love it. :) Thanks for responding. See yah around:)