Which member of this American Rock Band is your favourite?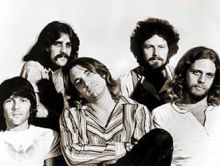 Malaysia
3 responses

• Palatka, Florida
19 Aug 07
My favorite is Don Henley out of all the Eagles band members. I even liked hearing him sing solo.

• Malaysia
19 Aug 07
thanks for your response , definitely a 2 thumbs up for don henley :)

• United States
16 Sep 07
I'm with you! I love Don Henley. He's a great singer and I also loved his solo stuff.

• United States
7 Nov 07
glenn fry,i would have to say because he helped to form the band and he also done a great sole album.i dont know how many of you have heard the song the garden of allah,but it was one of the best solo songs by a member of this band.

• Australia
4 Dec 07
I'm sorry to be picky, but Glenn Frey didn't sing 'Garden of Allah', that was Don Henley, and he wrote it also. It's a great song, and is a great example of my comment about his writing skills.

• Australia
4 Dec 07
I have to say Glenn Frey! I love his voice and I've got all of his solo CDs. Besides that, he's not bad to look at either!! My second fave is Don Henley - again I love his voice, and his song writing talents are second to none!