IS she really gone

Canada
August 18, 2007 1:19pm CST
Well rumor has it that Csi Grissom's love is not comming back. Now let me get this straight i mean we all love him only he can be this caracter but just when we see the side of him we all been wanting to see they will take the one women he loves out of the series and horribly at that, a car accident staged by thre very petite miniature killer. How does it all fit in in the big picture. I for one think she should of stayed what about you?
9 responses

• Portugal
18 Aug 07
no more soft side of Grissom!! but on the other hand i think we r going to get a more emotional Grissom, or maybe a more distant Grissom... it would be good to see how he is going to get through that situation, its not gonna be easy and i wonder if he would hold on to his colleagues, his friends!! im sure this is going to change Grissom's character somehow and im just to curious to find out what the writers will come up with!! :D

• Canada
18 Aug 07
I would like to see a revengeful Grissom. It would cool for him to turn into what the mini killer was! That would be dark for him.

• Portugal
18 Aug 07
taylor if he gets tooo dark and starts killing by the end of the season we would have no grissom!! and if that means Catherine would be in charge ill just stop watching the show!! William Peterson does an amazing job on that show and if he is off im off too!!

• Canada
19 Aug 07
To be honest, I kind of liked the show better at the beginning, when it was mostly about the case and only a bit about the characters. They were interesting, that's true, but I find this new thing where there are lots of relationships and politics difficult because sometimes it's annoying. At any rate, I have heard that this actress was difficult to work with. Something about her contract not being renewed another time because she was arguing with somebody. I don't really remember. I kind of think she should have stayed - she's an interesting character.

• Canada
20 Aug 07
WEll i think its all good points maybe they wil make room for the famous Lady Heather i have a feeling Grissom really liked her and hmm maybe there is a dom inside of him lurking who knows but i still think killing her off is a bad choice i mean she did bring the best out of him at times what if this makes his carachter sink further from all the others hmm i guess we can only wait and see.

• United States
19 Aug 07
She wanted a lot more money, so its likely she is gone. Some people think they should be able to get any amount of money; however, looks like CBS has said no this time. I hope the new person that has already been hired is good.


• Canada
19 Aug 07
I will hate to see her going , but in the end it all depends on the actors renewing the contracts or not. Usually when a character is working well then that character isn't cut unless he/she demands more money than what they are willing or able to give or decides not to renew the contract, so if Sarah is not coming back the reason will have to be one of those.

• Canada
18 Aug 07
the girl that plays sarah didn't renew her contract. So I guess that 's how they are gonna kill her. I really liked that story line...finally getting to see Grissom's soft side. I love Grissom!!

• Philippines
12 Sep 07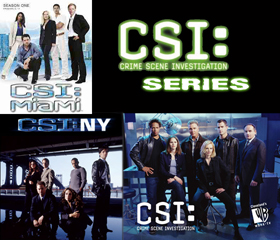 I think Sara should stay. She's an integral part of the Series as a whole. And I don't want the original series get same treatment like in the spinoff that several key characters where killed or removed (Tim Speedle, Yelina Salas in Miami & Aiden Burn in CSI:NY.)

• United States
5 Sep 07
My thought is that they are going to kill her (sara) off as well. Although I don't think they have ever killer a character off of that show (except the girl in the very first episode). And I had no idea they were talking about bringing Speedle back on Miami. I guess I am off to find more threads about that. Very interesting.

• Philippines
21 Aug 07
sarah, i think she's pregnant. that's reason i guess why they have to kick her out of the show. Or am i missing something? Is it just in the show that she's pregnant? but i rather like grissom to be teamed up to his true to life wife, catherine. i missed them so much. when are they coming back on tv? they're the best csi...