I love growing flowers outdoors, but I have a brown thumb. Can you help?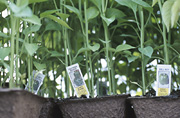 United States
August 18, 2007 3:28pm CST
I have always loved flowers! I like just about every type of flower I've seen, except perhaps the ones that smell like rotting meat. My problem is, I grew up in the tropics, so plants didn't need all that much attention. They got plenty of rain, sometimes too much, and they grew without much assistance. Some just need cutting back sometimes, and one could literally hack at them and they would do fine. Now I live in a dry, hot/cold climate, and I have no idea how to help the poor flowers I've grown. I don't even know the names of the flowers because I threw the seed packs away after I scattered the seeds. They have now grown to mammoth size, and I don't know what to do. I definitely have a brown thumb! Are there any green thumbs who can give me advice?
3 responses

• Canada
19 Aug 07
Sorry I can't help you, but I just want you to know that you are not alone. Brown thumb all the way here too. I love flowers as well but I"m afraid that they might have posters in their little gardens warning the little daisies and violets about me LOL IN any case I just wanted you to know that you're not the only brown thumb in here, hope that makes you feel less alone LOL

• United States
21 Aug 07
Thank you for your empathy in the brown thumb area! :) It is very difficult when you love flowers so much, but create disastrous results as I have. I appreciate your comment and your encouragement! :)

• Canada
21 Aug 07
LOL tell me about it!!! I killed aloe vera!!!!! I am told that this is extremely difficult hehehehe

• Canada
19 Aug 07
Okay, well, first, you might need to find out what kind of flowers/plants they are. Is there any way you can post clear pictures of each type of plant? Next year you might want to try container gardening, or maybe square foot gardening. It's sort of easier to keep track of the plants and to take care of them.

• United States
21 Aug 07
I think you're right. I think that because our property is large, I just went way overboard, especially since I have such a brown thumb and bad track record with plants. I think I might try just a patch and tend to that carefully and see how it works. That was a good suggestion. Thanks, cutepenguin!


• United States
21 Aug 07
I suppose I didn't explain myself very well. I think the soil where I planted the seeds was shallow, and the plants grew so tall that they keeled over! I think you are right, I need to contain or encase them. What would you use? String? Wood? I'm not sure how to get them back in control :) Thanks for asking. I'm glad your plants grew well this year!