Great North Legends

United States
August 18, 2007 4:54pm CST
At our local NASCAR track here in Minnesota we have a class of cars called Great North Legends. These are small scaled versions of 1934 & 1927 Ford Coupes Chevy Coupse Dodge Coupes & Sedans. It's a cheap form of racing to get involved in. Under $15,000 for the cars. They have a few diffetrent calsses in this division as weel depending on age and experience. Anyhow these are great looking cars. They are powered by a Yamaha 1250 CC Engine. Horsepower up to 125. They are really fast looking being so small. The doors actually open on these also. Here's a phot of one & I have more photos of them racing Friday Night when I went with my grandson. Thanks for letting me share this with you all. HAPPY POSTINGS FROM GRANDPA BOB!!~http://www.greatnorthlegends.com/legends.htm
4 responses

• United States
19 Aug 07
I showed your picture, and the website, to my hubby and he thinks that the dwarf cars that race around the local tracks here are based on the Great North Legends. A couple on the website looked like they were the same size as the dwarfs. Anyway, they are awesome to watch. A friend of mine used to own one, and his grandson was the driver until he got into a wreck and ended up in the hospital. So they sold the dwarf, and now the grandson wants to drive....get this....pure stocks! He's nuts! LOL

• United States
19 Aug 07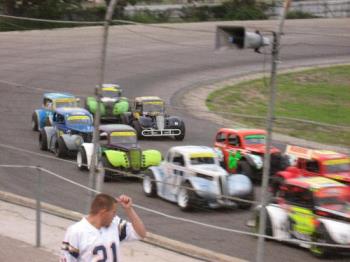 Yeah they may be but this calss of car races in the North and can only be bought in the North. They have many classes of so called "mini" cars all over the States. I love these as they are very quick for as small as they are. Tyler loves them too as he can reach the roof himself. HAHAHA! Here's the start of the first qualifying race. There was a total of 21 Legends present for the nights races. HAPPY POSTINGS FROM GRANDPA BOB!!~

• United States
4 Jan 09
After reading this post they are pretty safe but a pure stock are bigger and slower then the legend cars. We are the ones that are nut to drive the legend well here in MN because all the classes are in the same race you have the new people with the pros and masters so it a big mess some time out there

• United States
4 Jan 09
Hi Bob why do you have my car posted on the internet and only my legend car? I would of like to know what you where planning on doing

• United States
4 Jan 09
This was taken in Minnesota at RacewayPark in Shakopee. I plan on doing nothing with the photo it was taken on a weekend race trip I take very often in the summer months. I go to a few different tracks actually. HAPPY POSTINGS FROM GRANDPA BOB !!~

• United States
4 Jan 09
It seems like you like my car witch is fine If I can of mad it came off the wrong way. I is why we are there for you guy and to promote the sport. I just wish that night was better for me and the car. I hit the wall in warm up and was fighting a tight car all night. With out my other trailer I didnt have the stuff I need to set it up right from the crash But I hope you and your and your family had fun and if you have any ? for me I will help out in any way I can If you want more pic We have thousand. Did you make it out to elko this year for the legend national?

• United States
20 Aug 07
Thanks for sharing, I am glad you and your gandson had such a great time. I will rate your photo after I post this. I do not know much about racing. I will learn because they are building a raceway here in ourtown.

• United States
20 Aug 07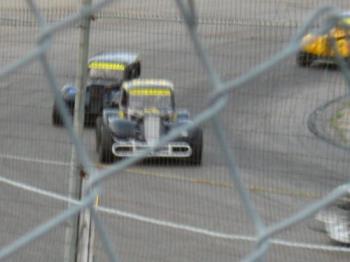 Is it going to be a NASCAR track at all? Is it going to be a shirttrack? The ones I visit near me are all sanctioned by NASCAR with points in a couple different national NASCAR standings. It's great to see the up and coming NASCAR stars racing locally too. HAPPY POSTINGS FROM GRANDPA BOB !!~

• United States
20 Aug 07
Hahahaha! Not "shirttrack". I mean shortttrack. Too funny. In a hurry I guess huh?

• Singapore
20 Aug 07
wow that sounds very historic and interesting. recently i went to a hawker centre (that's a cheap eating place in singapore) and saw an ASTON MARTIN parked in the carpark. they say food is the great leveller in singapore, and it's really true. very rich people will eat at very dingy places if the food is good. it was a very snazzy sports aston martin that made me think of james bond. haha.