INTERNET:moves us ahead OR jst wastage of time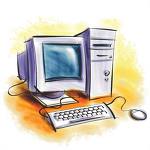 4 responses

• Israel
19 Aug 07
yes I very much agree with you. Children are no more interested in outdoor games and any other activities. They just want to sit on pc and play games. due to this they are not even getting any phyical exercise nor any fresh oxygen for their lungs and strain on the eyesite is making more and more children use specticals. Family members who use to sit together and discuss each others problems in their free time now have no time for each other, as each one sits on pc with thier own interest. Emotional attachement is getting more and more less. Old people in the house are completely neglected. They feel more depressed and lonely as no body is talking to them. MORE IMPORTANCE IS GIVEN TO STRANGERS, RATHER THAN THOSE WHO CARE FOR YOU. Yes we are really wasting a lot of our quality time on pc. SPECIALLY chatting, which have created disloyality between so many married couples. This has also taken away our effeciency and concetraton from our professoinal work as we are always in hurry to finish everything and run back to pc do waste time again.But now we all are addicted to this and it is not possible to think living without internet.

•
19 Aug 07
thanx a lot dear to response me i do agree with you internet is having many many problems but the point is that we are the one who choose the way between the positivity and negativity of the internet. what do you think

• Israel
19 Aug 07
Yes but in either way , we are wasting our time on internet. Whether you are doing sensless chatting and flirting or you are reading health articles.....the time is still taken by internet and that is what you had mentioned in your discusson about wasting our valuable time.......am I right........:D

•
20 Aug 07
ya u are absolutely right it entirely depends on us. thanx alot for ur response


• Philippines
20 Aug 07
It depends upon the purpose for using internet. But I think it is not at all a waste of time because we learn many things whatever we do in the internet. And we use the internet not just for a time but may be for a lifetime so we may not need what we learn from it now but later on perhaps and it's not easy to learn things about using the internet so while we use it we learn how to use it and we learn so many other things, informative and educational.

• India
20 Aug 07
The Internet, once dominated by the military intelligence has brought changes into our lives. Although it was initially created as a communication system to last the fallout of a nuclear war, the Internet has been librated. One needs only a telephone line and a computer equipped with a modem to explore the cyberspace. Thus, knowledge is now easily and readily accessible. With just a simple surf to various search engines in the Net like Yahoo or AltaVista, we can get thousands of web addresses linked to the information we want. We can even download it and save it into our computer for free. so you see it is increase tech. and it depends on how you use it. every scientific discovery has postives and negatives. its how we use