on wedding vows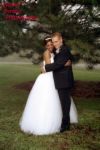 Philippines
4 responses

• United States
19 Aug 07
Hi! I don't think it has to be mushy...lol. I was looking in to the same thing, but we put our planning off due to other financial obligations. I found a lot of useful stuff on theknot.com. I think that's the one with lots of links and forums for questions and discussions. I hope you find it to be helpful. I would just make your vows personal...it can be by saying deep things that your spouse and you share or try to describe your love in a creative way or make it your own Good luck with your vows and congrats on the wedding:)

• Philippines
19 Aug 07
thanks for the link. yeah it might be useful, i'll be checking on it. Speaking of finance, it's really hard to save money for the wedding.. We're really trying to cope. I don't know but as of today we already exceed the budget. =(

• Philippines
21 Aug 07
Hi! congratulations... there are many sites in the internet giving suggestions on how to compose a personalized marriage vows. And I think people will like it more if it has little humor in it, something which would really surprise everyone and that would make the vow very memorable. It can start with all the mushy stuff...because that's normally how love is expressed...(LOL)...and then you can inject humor later...and end in some serious note.

• Philippines
21 Aug 07
Congratulations in advance! Best wishes for both of you. It still a very long time to prepare for your wedding you can find some ideas in the internet and of course books to help you. Of course as we entered into getting married all of us dont have the idea on how long it will take and the preparation to be, well no such difficult thing in preparing for your wedding as long as both of you are very much prepared. Not only on financial but of course the emotional feeling and accepting the fact that a married life is a lifetime commitment that both of you have to take it seriously. God bless and best wishes for both of you.

• Philippines
21 Aug 07
thanks.. This really helps, you know, people we don't really know that gives moral support & ideas. =)

• Thiruvananthapuram, India
19 Aug 07
Weddding bells ! let it ring peace and joy in plenty to both of you . Accept my wishes quite in advance .Good luck and all the very best to both of you . May God shower HIS choicest blessings . LOL.

• Philippines
19 Aug 07
Thanks.. I really need prayers to cope with pressures on wedding preparations.. Hoping all the best for you also =)