Meditterranean Food Recipes?

United States
August 19, 2007 3:32pm CST
Help! My favorite restaraunt closed about two years ago and so I cannot get the fun Greek/Middle Eastern inspired foods that they carried like Kafka, lamb kabobs, hummus and the like. Obviously, I can buy hummus at the grocery store, but I'm looking for good recipes to make lamb, kafka or any of the other Greek inspired type of dishes that they carried. I'd also like a good recipe fr suvlaki if someone has one or even just tips for cooking these types of foods. Thanks!
2 responses

• United States
19 Aug 07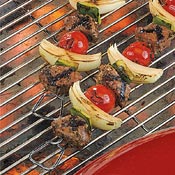 Here is one for you. Greek Lamb Kabobs RECIPE INGREDIENTS 1/2 cup lemon juice 4 teaspoons olive oil or canola oil 2 tablespoons dried oregano 6 garlic cloves, minced 1 pound boneless lean lamb, cut into 1-inch cubes 16 cherry tomatoes 1 large green pepper, cut into 1-inch pieces 1 large onion, cut into 1-inch wedges METHOD In a bowl, combine the lemon juice, oil, oregano and garlic; mix well. Remove 1/4 cup for basting; cover and refrigerate. Pour the remaining marinade into a large resealable plastic bag; add the lamb. Seal bag and turn to coat; refrigerate for at least 8 hours or overnight, turning occasionally Coat grill rack with nonstick cooking spray before starting the grill. Drain and discard marinade from lamb. On eight metal or soaked wooden skewers, alternately thread lamb, tomatoes, green pepper and onion. Grill kabobs, uncovered, over medium heat for 3 minutes on each side. Baste with reserved marinade. Grill 8-10 minutes longer or until meat reaches desired doneness, turning and basting frequently.

• United States
19 Aug 07
Sounds yummmy and like something I can do without too much difficulty. I always like recipes that make me look good without being too hard! Tanks a bunch!

• United States
19 Aug 07
Ooh, that does sound tasty! Do you know if it could be made in the broiler? We don't have a grill, unfortunately, but I would love to try it!

• United States
19 Aug 07
I'm actually going to try my hand at making my own hummus one of these days, though I do really like the hummus at the grocery store as well! :) Lamb seems like it is really tricky to cook, but I don't know that this is really the case. Jerome thinks we should get one of those spit type cookers, like the one they have at El Greco, and make a whole leg of lamb. While I'm sure we would eat it all, buying your own spit seems impractical. :)

• United States
19 Aug 07
I'm actually making my first attempt at babah ganeush (which i still can't spell) today. But yeah, I think getting your own spit could be a bit impractical...where would you keep it? I'm not sure how hard it is to actually cook lamb, but it is hard to find in Carbondale. The only place I could buy it was the co-op...and it was like $8 a pound, so leg of lamb is like $20+...of course the Co-op tried to put it down to the fact that it's locally grown and organic...but still. So I settled for some lamb stew meat and I'm going to try an Armenia lamb stew as my first experiemnt. Amber's boyfriend agreed to be my guinea pig :)