Unusual pets?

United States
August 20, 2007 9:33am CST
do you have, or did you ever have an unusual pet - a type of animal not everyone has for a pet? I have a dog and cat, so that's not rare. When I was younger I had this grow-a-frog. It was pretty cool. You get it as a tadpole and watch it grow into a frog. what about you? any good stories?
8 responses

• United States
20 Aug 07
I had drawf hamesters which I raised when I was younger and I had two unusual colors of them that were imported from England. My brother had leopard geckos. But my mother was the one with the unusal pet. When she was a kid she had peacocks for a pet. She grew up on a farm and had the usual chickens, rabbits, horses, cats, dogs, etc. But she also had a pair of peacocks that her daddy brought home for her.

• United States
20 Aug 07
That's neat. What are peacocks like? I have heard they can be really noisy. Is that true?

• United States
26 Aug 07
I've had tons of dogs, and cats. But I have also had pet mice, a pet groundhog, hamsters, and a pet fox. The fox just came up missing a couple of days before Christmas, so I'm still heartbroken over that. He was alot of fun, very entertaining. He loved watermelon, and squeaky toys, so you should have seen how excited he got, when I would give him his special treats. I a picture of him in my photos on my profile, if you'd like to see him. His name was Tippy, and he was a Platinum Blue Fox.

• United States
26 Aug 07
I've mainly have had cats all my life, but I've also had pet mice, and birds...but the most unusual I would say were crickets!! I just loved the sound of them.


• United States
25 Aug 07
I grew up in Texas and caught many animals that I kept as pets including gophers, antelope, coyotes and owls. And then there were the snakes including rattlesnakes that i use to catch and sell for their venom. If it moved I probably caught it if I could. I am more mature now and know that it is not a good idea to catch animals from the wild unless you know exactly how to take care of them.

• Philippines
28 Aug 07
Well, we had this lobster as a pet when I was younger. I couldn't quite remember him 'coz he didn't stay long 'coz he got lost when we were about to clean his aquarium.

• Canada
28 Aug 07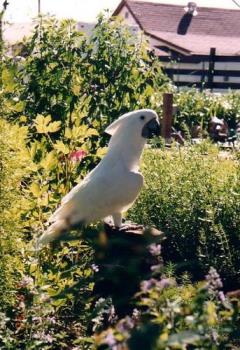 My hubby and I currently have two big dogs and 5 cats and 4 aquariums full of different kinds of fish. The most unusual pet we ever had was a large white cockatoo named Aimee. She was a hoot...but very spoiled and demanding...like having a child forever in the 'terrible twos.' We could never fill her endless need for attention and finally found her a great home with a young boy who was willing to dote on her in the alls the ways she needed and wanted. I have enclosed a photo...

• United States
27 Aug 07
Right now, we have 6 dogs, 1 cat, 2 sheep, 14 turkeys and 50 chickens. Although, the farm animals technically are not pets, but still, it's unusual I guess!