Cellphone

India
11 responses


• India
4 Nov 06
C139 is a simple phone i think, with no extrs baggage. So u just use ur cell for making calls which i think is the primary reason for buying a phone! :P

• India
3 Nov 06
ya i have a nokia N-72 its very cool & as nokia is best

• India
4 Nov 06
N-72 is cool. And may be the most reliable phone in the n-series. There r too many probs coming up in nokia n-series phones now.


• India
4 Nov 06
sry never heard of it but thts probably coz here in India seimens phones r not really popular. Nokia is the most popular. And then Motorola and sony ericsson.

• United States
3 Nov 06
I used to own a razr but have switched to a blackberry as I need it more for business.

• India
4 Nov 06
Ya blueberry is more suited for business needs. But even then it looks great!

• United Arab Emirates
3 Nov 06

• United States
3 Nov 06
I have that same one! I love it! I bought a neat hard over for it that is blue and gives my razor a royal blue color. I've heard so many complain about problems with their razor but I've had no issue with mine. Have you had any problems with yours?

• India
4 Nov 06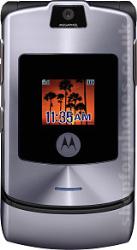 I got no complaints frm it. I absolutely luv it! And i also luv the hands free supplies wid it. I mean the sound quality is even better than an ipod!