a great and fun snack for kids to enjoy

United States
August 23, 2007 8:34am CST
i have been trying so many new ideas to keep my kids eating well and not junk food.and also to keep them interesting in the good food thats good for them.i love to make fun stuff with them that they can enjoy and have memorable moments with me.so heres afew that we do and we have lots of fun eating them as well.insert a posicle stick into end of a banana peel,then dipped the banana into chocolate until its covered,let the excess chocolate drip off,you can then place the dipped banana on waxed paper,then roll it in schredded coconut,cover it with another piece of wax paper,and put into freezer until chocolate has harden.this is really good and kids love it.i dont give my kids much chocolate or junk but for a treat i do this.
9 responses

• India
23 Aug 07
i want one too mommy. really nice, i participated because i like kids that all. some more recipies please. love, apple not as sweet as banana.

• United States
23 Aug 07
thanks more to come your way.

• United States
28 Aug 07
and so are you my friend.


• United States
23 Aug 07
MIne love ants on a log, you take the celery sticks, cut them into smallish sections, spread some peanut butter and put rasins on top. It's their favorite snack. Well healthy snack any ways. I also get the carmel dip for the apples sometimes it never lasts as long as I'd hope.

• United States
28 Aug 07
i will have to try that ,sounds good.thanks

• United States
25 Aug 07
You can use other fruits as well as bannanas. I use apples cut up in small chunks. Stick a toothpick in them and fix a bowl with melted carmel. This is a fun dip for the kids. It also taste greats. I like to serve fresh not frozen. My family don't eat if it is frozen. when you put chocolate or carmel on fruit it will go bad from the inside out so eat right away. My family loves chocolate covered strawberries. I pick out the good large berries and dipp them in chocolate and again use wax paper to let them drain. You can hold these up to about 48 hours before you start running into problems. The only thing is that they don't last that long in my house. I think I will give your recipe a try and see what happens.

• United States
28 Aug 07
that sounds so good,your making me hungry,im gonna try that.thanks so much.take care.

• United States
23 Aug 07
That sounds very good and also nutritious! It is a perfect snack for hot days and filling too!

• United States
28 Aug 07
yes its very filling,cant eat too many lol.thanks for comment and take care.


• United States
28 Aug 07
thats really cute,im gonna try that.thanks so much for the great tip.take care.

•
28 Aug 07
Wow that sounds delicious and also, banana is very good for the kids, as is the coconut. I would think that the chocolate is minimal and this is really an excellent idea for a sweet treat. I like strawberries dipped in chocolate as well... and pineapple, come to that. Yummmmmeeeeeeee! Thank you for sharing and Brightest Blessings.

• United States
29 Aug 07
wow that sounds so good,i love strawberries and coconut.that would be great with a little chocolate.pineapples too yummy,you make me want to make this right now,sounds great.thanks.

• United States
29 Aug 07
Sounds like you are a good mom, and that you do a good job making healthy fun and pallatable for kids! My sister could use some of these tips (as well as myself, seeing as how I help her out).

• United States
29 Aug 07
thats great of you to help her out,trust me the help is wonderful.i can use some help,what time can you be here.lol.take care and god bless.really great to meet you.

• United States
30 Aug 07
It is nice to meet you as well! Hopefully I'll get a chance to read and comment on more of your discussions this evening!

• Canada
31 Aug 07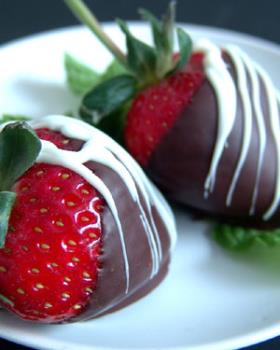 What a great, quick, and easy idea 3lilangels. Thanks so much for sharing! I bet strawberries and pineapple would also be good like that! Strawberries dipped in chocolate is one of my favorite desserts EVER!

• United States
31 Aug 07
mine too,that picture looks so good it just makes me want to reach into my computer and grab it lol.i will have to get some strawberries and chocolate this weekend.thats sounds like a plan.

• United States
30 Aug 07
that sounds good....for me too!!...:) I remember my kids use to love to make ginerbread men together...I let them decorate it with the expression that they desired..but it just doesn't seem as yummy as yours now...

• United States
30 Aug 07
wow gingerbread men,that brings back some good child memories making them with my mom.we had so much fun.thanks for bringin that up,and i hope you enjoy mine too.take care.pattie