This Is ONE BIG BUNNY!!!!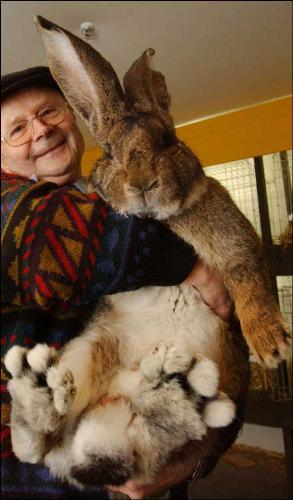 United States
August 23, 2007 3:32pm CST
Check out this Bunny!!! Oh man hes huge. Could you imagine having one this big? Heres where I found the pic: www.jaysspace.com/ animals.htm~He weighs in at 122 pounds and measures a little over 3 feet. He is a breed of rabbit called German Giant. This is his owner, Hans Wagner, struggling to hold him up. from the NY Post article: "We don't feed him an unusual diet," said Wagner. "He goes through more than his brothers and sisters, but he eats the same food mix. His favorite food is actually lettuce. He can never get enough of it.~WOW!!!!!
8 responses


• United States
23 Aug 07
I did too!! But its not he is a real live bunny!!



• United States
23 Aug 07
omg he is so cute.i cant believe how big he is.you would need his own little bunny house lol.and he probaply needs a whole garden of lettuce.great picture i would love to own him,hes too cute.

• United States
24 Aug 07
I want him to but I would have no room for him. He need his own room and I cant imagine how much it would cost to feed him.

• United States
23 Aug 07
I could not imagine having a bunny that huge, but he is adorable. WOW!

• United States
23 Aug 07
I Know where would you keep it?? It woukd have to have its own room!

• United States
26 Aug 07
Gah! What!? I want to know what its being fed. (I want some).

• Singapore
24 Aug 07
That's indeed a giant bunny. I wonder whether it could still hop

• United States
24 Aug 07
Wow! He must have a growth hormone problem....He sure is cute and a very big handful....Thank you for sharing...

• United States
23 Aug 07
OH..MY..WORD.. I can't believe that! I mean, I know it's a real picture, but how amazing! I hope he doesn't sell the bunny. I know people must come out of the woodwork, offering to buy him, but I hope he keeps him and protects him. From the picture, he looks like he loves his animals. : ) Thanks for sharing this way cool picture!