I can't believe I ate the whole thing!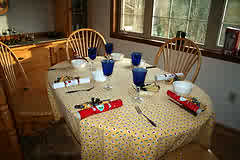 Canada
August 24, 2007 7:02pm CST
How do you know when you've had enough? When I'm hungry I eat like a Pig. But I always stop before I'm stuffed. I've never been overweight,possibly, because I'm selective in my food choices. The first time I went to an All-You-Can-Eat Buffet I really Pigged-out! It was painful! Took me 2 days to get my appitite back. Do you overeat? Are you, or have you ever been overweight? Which do you believe contributes to obesity the most, Overeating, or Bad food choices?
10 responses

• Philippines
25 Aug 07
lately have been eating less in quatity but more on quality (i mean healthy food) i've noticed that if you eat healthy food you hardly go hungry and feel a lot better like having more veggies and just enough meat and no carbo ( like rice or bread) and just make sure that you eat on time or before you feel hungry. and my observation bad food choices is the number one culprit in obesity.

• Canada
31 Aug 07
Agreed. I've been eating like that for years and I feel great. I hate feeling hungry so I tend to fill up on fresh vegetables and fruits before I get hungry. The only time where I ever crave a huge meal is after a lot of exercise.

• Indonesia
25 Aug 07
i have only one choice place to go for eat.Its a little restaurant, in indonesia we call it warung, and every day they display the same things. They have 2 rack, up they display fried chicken, fried fish, tofu, and vegetable dishes, and the second rack they display soup, vegetable in coconut milk, boiled vegetable in another plate, and nuts sauce, soto soup. and rice in a big jar. we buy nasi with choosing those food in the display. They also sell ice with cocacola, tea, squice orange, or milk, coffe, ecetera. Some time when i bored to see the meal i just order mie goreng (fried noddle) and ice tea. it cost me just about 6000 rupiah or about US$0,6 only.

• Indonesia
25 Aug 07
in a wedding party. it was standing party and i pic food a little bit on every dishes they serve until my plate is full. and i eat it in the corner. heheh

• Philippines
25 Aug 07
hahahhah.. i personally ate a whole cake.. a chocolate mousse, waiting only for me.. and it was actually a treat! and i don't know, maybe because im in my teen years, my diet was not disordered, really.. and, well.. i think they are not the only categories on how people gain weight, metabolism, genes, and how much energy you use a day would affect more.. but since i got two choices, i'd go for bad food choices.. i go for quality over quantity, man.. c:

• Canada
11 Sep 07
Wait till you get older and fatter. Imagine falling into bed at night and being unable to get out again in the morning,and the Guys came with a chainsaw and cut a hole in your bedroom wall so they could get you out of the house. and you still got fatter and bigger, and maybe now you weigh 1000 lbs and your legs are so big your pants are so tight and the chairs are too small.......Oh My God this is depressing............

• China
25 Aug 07
I am a fat girl, most people around me call me "pig'.But I don not mind.I think one people onlyhas one life , everyone has chance to enjoy it.If we don not eat happily, we will feel it is a pity. I want to do my intersted things,beacause I want to live happily in the earth.

• Baguio, Philippines
25 Aug 07
Occasionally I do. I'm a bit shy when I feel the hunger on my tummy. I'm a man so I eat twice than average woman do. The first meal that I eat voraciously was the roasted chicken.

• Brazil
25 Aug 07
Well let me answer one by one :) I overeat sometimes, but I have to say that my normal plate is not a big one so when I overeat I will be eating a normal size. My problem is chocolate. I am addicted and I eat a lot of it. What brings me to the next question. I have been overweight for many years. It is just 10 kg over my weight. I think that overeating is a cause of obesity but bad food is worse. I think we should pay attention to what we eat and try to eat fibers and protein. Fibers makes the metabolism go faster so we burn more calories. Protein are good to our muscles and the muscles are responsible for burning the calories.

• Canada
25 Aug 07
I love chocolate too. Theres no doubt its addictive! I could have a problem there too, but I only buy chocolate occasionally, (then I eat it up quickly)so I don't really eat too much. Try to stay away from prepared foods, like cookies, and cakes. I bake my own bread because I don't like the preservatives in boughten bread.

• Indonesia
25 Aug 07
when I'm really hungry and ready for a huge meal, I end up eating little, don't know why.. but in normal, I always eat all my food. Sometimes I think I overeat, but sometimes I also eat less.. so I think I'm still balanced :D About what contributes the most to obesity, I think bad food choices contributes more than overeating, because when you're overeating healthy foods, this shouldn't make you fat..

• Malaysia
25 Aug 07
I know when I've had enough when I start feeling nauseous and feel like throwing up.Erghk.I indulge in food when I'm watching tele.I know it's not advisable to do so but I can't help it!Kitchen is just a few steps away from the tele.Like yesterday,I had three helpings of pasta,two eggs,fruits,cereal and went out for dinner and had chilli!That's a lot!I guess I tend to overeat after exercising too.It's just bad.I've been overweight and I don't intend to go back to that phase.I believe bad food choices like fried food and overeating,both adds up to obesity.I was obese once and I know fried food and fast food contributes a lot in obesity.Hope this helps,barehugs=)

• United States
25 Aug 07
I try not to, but sometimes I eat when I am not hungry like they say, sometimes I eat to stay awake. I don't think overeating is the problem. I think eating the wrong thing has more to do with it. I find that when I gain weight alot of times it's because I am eating out, not at home where there are no additives to enhance my food.

• United States
25 Aug 07
I never eat large meals at all anymore...I'll have relatively small main meals but snack all the rest of the time--I learned the hard way not to pig out a dinner especially and especially after eating an enormous Thanksgiving Dinner years ago...I guess it was similar to what happened to you when you went to that all you can eat place...I was SO uncomfortable afterwards--also when I used to eat large three main meals then snack too that's when I would gain weight..but being a nibbler now I haven't gained any...so I think that could be one cause of obesity, and yes, the other just plain bad food choices