I am thrilled ...

United States
August 25, 2007 4:44am CST
The first step has been taken in the Vick/Dog fighting scandal. Now I just hope he gets jail time and a hefty fine. Were any of your aware that these sportsmen consider dog fighting to be a legitimate sport? Seemingly Vick left the dogs who did not fight well to die gruesome deaths. So I think it would be fair to have the NFL players, who are involved in dogfighting, be left to die if they do not play well!! Full Story: http://news.yahoo.com/s/ap/20070825/ap_on_sp_fo_ne/fbn_michael_vick BUT.....I am appalled that so many NFL players advocate the unbelievably cruel practice of dog fighting- Profootballtalk.com recently reminded readers of other instances in which NFL players or former players were involved in dogfighting. Among them were former Cowboys lineman Nate Newton being arrested at a dogfight, and former NFL running back LeShon Johnson pleading guilty in 2005 to possessing dogs for the purpose of fighting. Former NFL cornerback and current NFL Network analyst Deion Sanders also wrote in his weekly column in the Fort Myers (Fla.) News-Press that many NFL players have a "passion" for dogfighting. Richardson shakes his head. Besides the usual list of no-no's — guns, gambling, drunk driving, drugs, etc. — the league has now added "no dogfighting" to the mix as NFL representatives visit training camps to warn players about the consequences of misconduct. "I think it's pretty obvious that we're working with a commissioner that's not playing around," Richardson said. "I guess they have to put 'no dogfighting' in there. But ... I would think that should be pretty much a given." Apparently not. http://www.startribune.com/craig/story/1330572.html
11 responses

• Canada
25 Aug 07
That is so disgusting. Have you seen the movie Gladiator? Well I think that would be a fitting punishment for all people found guilty of dog fighting. Throw THEM in a ring and the last one standing gets to spend the rest of thier lives in jail.

• United States
25 Aug 07

• United States
25 Aug 07
Don't forget to send in the dogs at some point!

•
25 Aug 07
A new pass time. Once these players receive injuries on the field, like a dog that did not when the fight, they should be tossed in a pit filled with those fighting dogs that did win. Then let me take bets on who or what shall win. Sounds like a new sport to me. :oD

• United States
25 Aug 07
That is the best idea yet for a fitting punishment!


• United States
25 Aug 07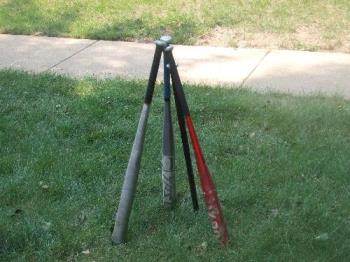 Personally, I'd like to have five minutes alone with this waste of carbon in human form.... just me, Micheal, and my 34 inch, 34 ounce aluminum softball bat. There wouldn't be any more question about his football career, I can promise you that! I thnk it was W.C. Fields who said, the more I know people, the more I like my dog!

• United States
25 Aug 07
I totally agree with W.C. Fields and could I borrow one of your bats and join you.

• United States
25 Aug 07
Hi, Heather, How have you been? I haven't seen you here latey? good to hear from you. I think that that is cruel, letrting dogs fight. I really didn't read you whole discussion, but I gatered it was about dog fighting, I am against it totally.

• United States
25 Aug 07
No I have not be here so much for the past couple of weeks but now that I am getting my email notifications again I'll be around a little more often.

• United States
25 Aug 07
We still have to wait and see if the judge accepts his plea, the judge has the option of refusing. Then it goes to trial with the full charges. The judge may take the plea because the State of Virginia is preparing to charge him as well. It will be an interesting Monday for thats when the judge decides and Vick is supposed to make some sort of public announcement about what is happening. Personally I think they should lock him up and throw away the key, then fill his cell with water, and accidentally attach battery cables to the bars. But that is just my opinion. He didn't plead guilty to the gambling charges because that is against NFL rules...lol. I conside it amazing he understands that part...since he apparently didn't understand that the concept of dogfighting would be frowned upon as well. I think Vick got in the wrong line when God was handing out brains, he thought they said trains and now he is in the middle of a wreck for sure.

• United States
25 Aug 07
Another good idea for a suitable punishment. Thank you!

• United States
25 Aug 07
I had no idea dog fighting was this big until all this broke. I can't imagine standing there watching these animals fight til they draw blood; and even worse putting them down because they didn't win! I'm glad he was forced to tell the truth and NFL has taken this stand.

• Australia
25 Aug 07
The whole incident of dog fighting is sick. Why would NFL players have a passion for dog fighting? Is this some macho thing? Sorry I have asked so many questions here? We do get the occassional report of dog fighting here, & they don't get let off lightly. Our AFL players are required to live a good moral life, & if one of them steps out of line, there are repurcussions. Hope they do the same to these sick NFL players.

• United States
25 Aug 07
I think you might have hit the nail on the head with the macho thing. Whatever the reason I hope this sends a message to the fans to boycott sports with these kind of players on their teams.

• United States
25 Aug 07
I think it's completely in line with our society today. The "pros" and "celebs" think they have a whole different set of rules. If it's illegal for Joe Schmoe off the street to have dog fights, what makes them think they are immune to these laws? I will comment on one thing that angers me about the outrage of the player.... As you say he is not the FIRST player nor will he be the last. Unfortunately HE was the only one society stepped up and yelled out loud about. Why is that? I'm not sure. I'm not even suggesting a reason because it's unthinkable to me. I have no clue why only ONE of the players would be targeted. Also, I'm ashamed of our society for being so outraged at these players actions because it's a dog, yet you don't hear half the hoopla when they kill someone, beat their wives or other socially unacceptable actions. Come on, tow the line society. Be as disgusted by unkind HUMAN acts as well as those to animals!

• United States
25 Aug 07
...as far as your opinion goes regarding society you are entitled to that but I disagree, humans have more chance of defending themselves against other humans whereas animals do not.

• United States
25 Aug 07
You are right about animals not being able to defend themselves, and I totally agree. But hockeygal also makes a valid point about society as a whole, but it is not all society it is a pitfall allowed by the media. I think that society as a whole is trying to be fair but the media search for sensationalism clouds a lot of issues because of celebrity status.

• United States
25 Aug 07
I am so sick of the media and celebrities that I could spit. Sensationalism to make money is all they care about.

• United States
25 Aug 07
I guess I have not much to say about this. My high school psychology teacher said it all when she said that people who condone or advocate animal cruelty are only a step away from inflicting that same cruelty on human beings.

• United States
26 Aug 07
I think your teacher was correct in her assumption.