Pool Fun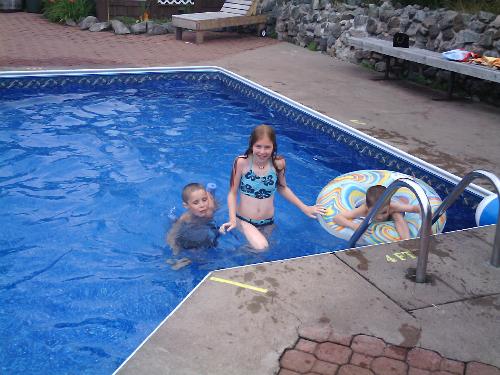 Canada
8 responses

• India
25 Aug 07
swimming is fun and i can imagine how much more fun it is with the kids, seein them have a time of the day. love always, apple.

• Canada
25 Aug 07
I love swimming too and when I was a kid I wished I was a mermaid HEHE Thanks for the post!

• India
25 Aug 07
you must watch this film called the little mermaid from disneys. you will feel like a kid again. smiles, apple.

• Canada
26 Aug 07
I have seen that movie at least 100 times if not more. It was my daughter's favorite disney movie (and mommy liked it too) LOL


• Nigeria
9 Sep 07
It always sound interesting and fascinating any time most of us in Africa here of the word "vacation" cos its not common here. Most of the people here can not afford it. Some of us even grow up before getting to know what vacation is cos of the families we come from. I like going to the pool eventhough I can't swim effectively. Thanks and have a nice day.

• Canada
12 Sep 07
Actually this was our first family vacation together. We were offered to use a friend's camper and stay at her campground for free. Only cost was gas and food which we would have needed to eat anyways. Otherwise we wouldn't have been able to afford it either. So I hear ya

• United States
27 Aug 07
Well my kids are just learning to swim and they love it. We don't belong to the pool but we go sometimes with friends. I take my daughter to the Y for swimming lessons. Most of my neighbors joined the pool, but it has been closed several times this season due to E-coli or whatever. Yuck!

• Canada
27 Aug 07
Wow that is yuck! I don't join but pay as I go. The closest poolis about 30 minutes away so we wouldn't be going to much in the winter seasons when the road are bad. Thanks for sharing!

• United States
26 Aug 07
hey vicky gald to see you back.I love the pool we have one i perfer thr pool better than the ocean i know whats under my feet.I can swim good but my husband cant.He makes me nervous when he goes to the deep side expecially if its only him and I. I know if he was to start drowning i would try to safe him of course but he would painic and we would both drown. My step daughter always want to go in the pool when she is over.Its calm and relaxing.It also releaves alot of my stress and its good exersice.the only excersice i like i might add.

• Canada
27 Aug 07
Nice to see ya too! My boyfriend can't swim well either but he isn't a daredevil and wouldn't go over his head. Chicken HEHE Thanks for sharing!

• United States
26 Aug 07
i love to swim,especially when we go to my sisters and all go in her pool.its so great just to see the fun my children are having and how much they enjoy it.yes i can swim,i dont know how great i swim but if i had to i think i would be able too.i guess i can do the doggie paddle lol.

• Canada
26 Aug 07
I love swimming too. It is so much fun. One day we had cool and wet weather but we still went into the pool. Even in one week I could see my kids swimming skills increase. Thanks for sharing :)

• Philippines
25 Aug 07
we have a pool here in our clubhouse, and sometimes, my daughter and i go for a swim.. the clubhouse is just in front of our house, so its very convenient for us,.. anytime we want to go for a swim.. its just a few steps from our house...

• Canada
26 Aug 07
That is so awesome. We have a pool for the yard but just a small kids pool to basically splash around in but I would love to have a real pool so close. Thanks for your post!

• United States
1 Sep 07
I have a built in swimming pool and yes I agree with you the best place to be is in my pool. I can swimm and love it. I cannot send you a picture of my pool I am on my lap top because my PC is in the shop getting a virus taken out of it.

• Guangzhou, China
29 Aug 07
Yes, I like going to the pool to have a swimming. I can swim but I don't think I swim very well. I think all kids like go to swimming. This summer I probably have gone to the swimming pool twice.