Why some dogs are smart and why some dogs just cant do anything right..

Philippines
August 25, 2007 8:38am CST
I just received my dog a couple of months ago. I hired a dog trainer. after a week of training my dog was really good of doing those simple tricks. I was really amazed why he learned so fast. but I also got a chihuahua ang really cannot understand a word I'm saying.. Is the problem with the chihuahua or is it with me??
4 responses

• China
26 Aug 07
I think dogs are one kind of the most clever animals,they can guess their ownner's feeling, and then do something to make him happy .When their eyes soulfully stared at you,it seems that you can understand them just like facing an old friend,how loyal and how cute they are !Enjoy your loving them,gradually,you will find yourself more good-hearted,that's the biggest harvest,isn't it?

• United States
18 Feb 08
Chi's are very stubborn. He may very well understand you but he's choosing not to do what you want. I think it is a size complex they have. They are so small, they have to make up for it in attitude. It's actually his way of controlling you. Now there are some dogs that it's just evident when you look in their eyes that there's lights on but nobody is home. See attached picture of my son's Brittany Spaniel, Cinch. He's not the smartest dog on the planet. He will sit and shake and chase birds, but only for my son. I tell him sit and he looks at me like "Do HUH????" He's a loving friendly dog, but my lord, he has got to be the stupidest dog I have ever seen. Give your Chi time. You'll work out some understanding of what is expected of him. I worked at my cousin's kennel where she had about 25 of them, and each one had it's own personality. There were ones that knew the routine, and accepted it, and some would test the boundries and try to do whatever they could to disrupt things. That's just their ego.

• United States
18 Feb 08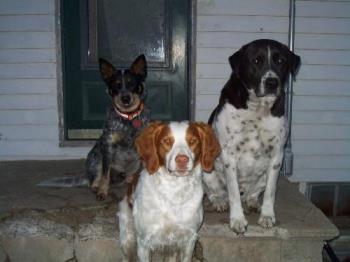 I meant to add a picture of Cinch, the Brittany.. here he is.

• Canada
11 Jan 09
It may seem that some dogs just can't do anything right but the truth is that it is not the dog but the dog handler. We must learn our dogs language to be able to convey to the dog in a way that the dog will understand the command that we are giving them. Even stubborn dogs. I have a yorkie and she is super capital S for Stubborn but with a lot of patience and a world of persistence, she is learning but it is or has been a long slow process. You can try using different techniques for the same command you are trying to teach as some dogs may respond better to one technique but not to another. We really must tune into our dogs in order to get the results that we are expecting. There is no such thing as dogs with bad behavior. The handlers must lead.

• China
26 Aug 07
I think all dogs are clever. If you can let your dog have a little training when he is a puppy, he can know more and do things better. Dogs are so lolay and they are our friends. If you train you dogs in the right, I think he can do things right as you wanted. Think your dog your friend even you family member. He will help you do mang things. Because he also make you as his best friend.