Tragic Accident

United States
August 26, 2007 12:55pm CST
It was with a sad feeling that I read the article on producer John Singleton's accident Thursday night in Los Angeles that resulted in the death of the pedestrian that he struck as she jaywalked in front of his vehicle. Celebrities have been receiving so much bad press lately(some deserved), that it made me feel better to know that he was not at fault in this case. It was reported that he waited for the police to respond to the call and was not found to be under the influence of any alcohol or drugs. This was simply a bad choice made by the woman who happened to cross his path at that particular time.
3 responses


• United States
26 Aug 07
This is very tragic incident indeed and I know sometime the driver can't do anything even tried hard as the pedestrians sometime do not notice carefully. The pedestrians are also sometime resposible for the accident by breaking the traffic rule, I do not aware of this particular incident but I think both side must be follow the rules fully to avoid this any accident on the road. I am sorry to hear this here.

• United States
26 Aug 07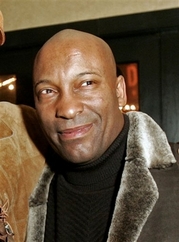 You are right, cmsk. It is in the best interest of both the driver and the pedestrian to be alert and careful.

• United States
26 Aug 07
I read this article myself this morning and, like you, was saddened. My prayers for strength and healing go out to that poor woman and her family but also to Mr. Singleton and his family, as well. Oftentimes, people do not realize how absolutely devastated the drivers are in cases like this. I was relieved and proud that Mr. Singleton behaved in such a responsible and humane way. It was indeed a tragic accident that certainly puts the precious moments of life into perspective. It can all be over so quickly, so senselessly. Treasure it.