It's Starting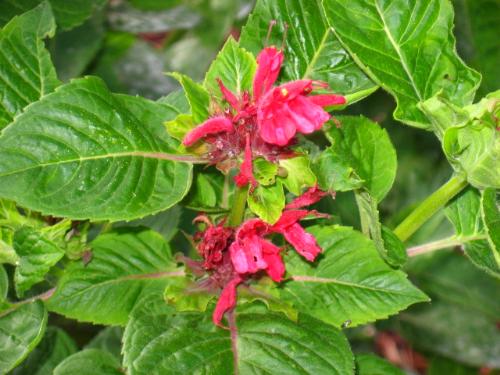 United States
August 26, 2007 4:21pm CST
This is a photo of my Beebalm I planted a few months ago. I asked for some ideas for plants that attract butterflies and or bees and this was one a few members had suggested. Well it has finnally started to bloom. I was told they don't bloom the first year but guess my green thumb says otherwise. HAHAHA! It has been great as far as the bees and butterflies. Well as some know the bees are arouhnd as I got stung earlier and had a discussion about it. Thanks for letting me share all things related to my garden. I have more this Sunday to write about also. Have a great day/evening all. HAPPY POSTINGS FROM GRANDPA BOB!!~
4 responses

• Singapore
27 Aug 07
I've never heard of the beebalm plant. this is like a horticulture lesson.:) sometimes I wonder where the bees come from. How far do they travel to get to one place? Do their hives have to be in a radius of at least X kilometres?Here's a photo of a bee and a dahlia that I took whilst on holiday. I love it cos it's so bright and cheery.

• United States
27 Aug 07
"Heres a photo"? Where is "here"? HAHAHAHA! Im going blind or what? HAPPY POSTINGS FROM BLIND GRANDPA BOB !!~

• Singapore
27 Aug 07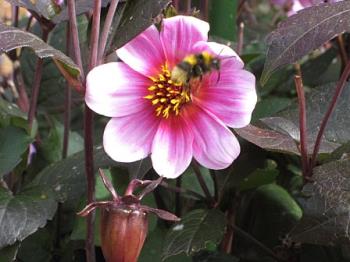 Heyyyyyyyyy.... I had uploaded a picture! let me try again.

• United States
27 Aug 07
I rubbed my eyes for a few hours and it showed up finally. HAHAHA!!!! rated and added a comment to the photo as well. HAPPY POSTINGS FROM GRANDPA BOB !!~

• Greece
26 Aug 07
Hi Grandpa...I'm back .It's nice to see your Beebalm bloom faster than you wait.They are so nice.I'm sure you have a wonderfully big garden and you spend time there with your family. Nice to be back...I really miss you and your always interesting photos!!!

• United States
26 Aug 07
Good to see you again. Where ya been? Here's another shot of the plant.

• United States
27 Aug 07
iLL HAVE TO CHECK THAT DISCUSSION OUT. mY WIFE WORKS FOR AN eGYPTASIN BTW. hE IS FROM aNSWAR.

• United States
27 Aug 07
Wow! Beautiful! i like your beebalm and thanks you have given the picture here. I can imagine the bees and butterflies are around with a great smile for the flowers and for you too. Enjoying the garden very much! The color is really lovely

• United States
9 Sep 07
I used to have beebalm, and it was great. I think hummingbirds like it too. I do not see them around here, so I do not know for sure. I will have to gather all of my gardening ideas up, and decide what I am going to do next year, as the season is past for planting this year. I always liked the fragrance of all the blooming things in my yard.