sing - do you sing?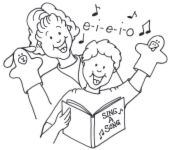 Philippines
August 26, 2007 4:21pm CST
do you participate during masses? do you sing during praise and worship? do you practice commonly church songs? so you sing even if your voice sounds like a toad or something weird? do you sing whole heartedly? do you sing your prayers? do you sing even if out of tune?
9 responses

• Jamaica
11 Sep 07
Yeah I have a good voice and I sing out of tune espceially when i am learning a new song or experimenting with notes which i love to do and the musicians laugh at me becos they know i am that way. I sing on the praise team and love doing it. I also am the choir mistress and currently organising a group for the church. I am good but too shy soemtimes to sing in public. I got invitd to a concert to sing and bcos some top singers were gonna be there I chicken out. At my home church I am fine but I get all scared and nervy outside of that

• Philippines
29 Aug 07
During my college years, i audtioned to become a member of our school choir and luckily accepted, im very happy because even if i don't have good voice i was accepted and i found out that they dont like very good voices as long as you can sing it right or not out of tune, since practices can honed your singing talents. We competed and performed in different places and sometime we are the champion and sometime 2nd place only. As of now me and my wife are members of one of the religious catholic organization and we sing praise during our prayer meeting, it feels good when we sing and praise God because its our ways of thanking him for all the good things that happened in our lives.I also played the guitar and try to teach other members new songs, sometimes we also sang in Mass when we are invited.As much as i can i try to develop more my singing talents by way of pratices.

• United States
27 Aug 07
I do love to sing, not that I am very talented at it - but it gives me much pleasure. I especially like to sing after Mass and during Benediction. O Solutari Hostia, Te Deum, panis angelicus, etc. sometimes I sing half of the Rosary. Sing the first 5 Ave's and speak the next 5 in each decade. I usually only do this if I am praying them alone, as the others get frustrated at how long it takes when I do this. my 5 year old likes when we sing it though.

• Philippines
27 Aug 07
Hi rouwel23! OMG, my voice is the worst but when I am in the church I feel like I have the voice of an angel. haha.. I sing wholeheartedly and so much joy in my heart but I really don't sing in public. God understands and love me for I am His child but I don't think the people who will hear me sing will be that accepting. haha.. Take care and have a nice day!

• New Zealand
27 Aug 07
Hi there. Do I sing, yes when Im around the house, or in my car I will sing along with whatevers playing or try to make my own tunes up, Do I sing out of tune? No, I dont sing out of tune, if I did, I dont think i would sing...



• Romania
12 Sep 07
well yes i sing!you can chek pe up ! i have put two of my videos up! http://www.metacafe.com/watch/816150/me_singing_tlc_dear_lie/ http://www.metacafe.com/watch/815384/me_singing_mario_let_me_love_you/

• Sweden
5 Aug 08
I dont sing for the church im not the type of person doing that.But i love to sing in karaoke with friends.I sing so heartly that make my voice better.I sing without any sound hehe.

• United States
28 Mar 08
I used to enjoy singing in the church when I was younger and I think I could sing but I am not the best at it sometimes, though. It depends on the day, really.