Is there hope for Amy Winehouse?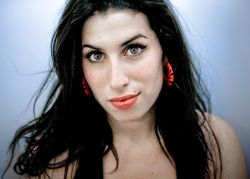 Boston, Massachusetts
August 26, 2007 6:02pm CST
Although she vowed in song never to go to rehab, Amy has been in and out a couple of times lately. The hasty marriage she entered into might be having its difficult times and although she denies it, the news media reported that she had a knock-down drag-out fight with her husband that left them both bloodied and bruised. Is Amy going down the wrong road fast or do you think she will pull herself out of this downward spiral?
2 responses

• Philippines
27 Aug 07
I think wishing her goodluck and acknowledging her repentance would be good, as it is inhumane to simply judge her because of what she's done. We'll only put her more into complicated things, if we don't show her support and give her hope. If she does it again, then let her suffer the consequences of her own actions. I think all Amy wants is some understanding, a good companion to be with and a person who can lend her their ears!;)

•
20 Sep 07
It's not lookin good from where i am. I'm not sure that Amy wants help! Whether thats because she doesn't believe she has a problem or whether shes just on fast forward self destruction. I think the only chance Amy has got in sorting herself out is to get far away from her hubby and start a complete fresh. They may have alot of history between them but i certainly think it should stay in the past and the way forward for Amy is to realise that her Hubby anit no good for her!