First day of school.......lunch story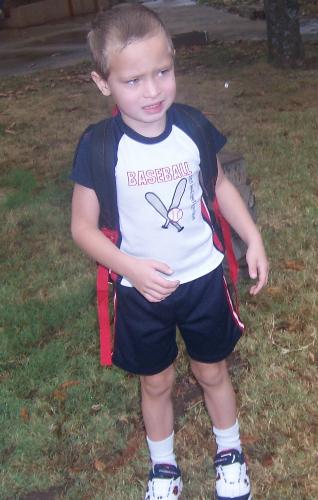 United States
August 30, 2007 10:05am CST
My 5 yr.old son, Alex began school last week...upon mcoming home, I asked him what he had for lunch....he told me that they had pizza and mashed potatoes and the potatoes were nasty.... My grandson, Sean, laughed at him and said that it was applesauce....Alex replied that he did not like that either... Kids are so funny sometimes....I just wanted to share my impression of his first day at school....
6 responses

• Canada
30 Aug 07
Isn't it funny how we can remember the first day of school. for myself I had to go to the bathroom and was afraid to ask, and of course ended up having an accident, and even when my kids started school I made sure they knew where the bathrooms were and how to ask to go. Another first day was my brother, The city changed the boundary rules, and instead of going down the end of the block my little brother had to walk 12 blocks to a new school. My dad walked him the first morning, and ten minutes after dad was back home my brother showed up, saying he was worried he might not remember the way, My father turned to him and said you did a great job, now find your way back and stay there until they tell you to go home. Every one thought this was so funny. I thought it was exactly what I would have done. it is sweet now but not back then. great discussion

• United States
30 Aug 07
HAHAHA! I did the walking routine as well turning right back saying they forgot my lunch. Then said they needed to walk me again to school as I don't know the way. HAHAHA! HAPPY POSTINGS FROM GRANDPA BOB !!~


• United States
31 Aug 07
That's funny! Kids are hilarious, aren't they? I was wondring at first why they would serve pizza with mashed potatoes? LOL My daughter starts first grade next week so it will be the first time she takes a lunch to school. I will probably pack her lunch most days so that she eats healthy. But I know she will want to buy lunch on some of the days, especailly on pizza day!

• United States
31 Aug 07
Oh your poor Alex! That is so cute though. I don't think I will ever forget my lunch on my first day of kindergarten...for some really stupid reason the school decided to do a surprise fire drill! All of us little kidergarteners thought it was real and stood outside sobbing about our new lunch boxes getting burned up! My Ryan starts his preschool/pre-K program next week. I explained to him tonight that on his pre-K day he would bring his lunch box and eat lunch at school...he said "But Mommy, grandma's plates won't fit in my lunch box!" He then decided that he would just eat cookies...

• United States
31 Aug 07
omg.that was so funny. kids are a trip ,i'm telling you! only god knows how he thought applesauce was mashed potatoes,lol. thank's for the laugh

• United States
30 Aug 07
nOW THAT'S A MEMORY THAT WILL BE FOREVER ETCHED IN YOUR MID. tOO FUNNY AND ALL TOO CUTE. wHEN MY SON WAS IN 1ST GRADE OR SO HE HAD A CLASS TRIP TO SEE sANTA. Now he had never seen anything other than a caucasian Santa. So when Santa appeared and he was black my son refused saying this Santa wasn't the real Santa as the real one is white. HAHAHA! Too precious coming from a 6 year old. I loved this event. HAPPY POSTINGS FROM GRANDPA BOB !!~