have you ever seen a puggle?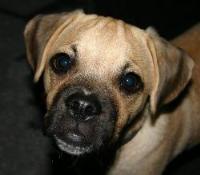 United States
7 responses


• United States
27 Oct 06

• United States
27 Oct 06
Yes I have seen a Puggle before. They r cute BUT I dont understand why somebody ever tried to make them a purebred? Honestly...we all know they arent. They are a mixed breed!!! Thats just like Goldendoodles and Labradoodles. Why??? THEY ARENT PUREBREDS!!! (BUT They r really cute! :) )

• United States
28 Oct 06
Yeah i dont understand that either.. I really think that its just a way for them to make more money. They want to make it its own breed so it can be popular i guess they were getting old of the old dogs.. who knows.. but what a cute mix..

• United States
27 Oct 06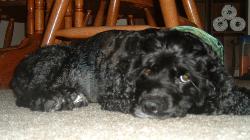 Puggles are very cute but do they have the beagal howl? Sorry but I think cocker spanials are the cutest dogs ever.

• United States
28 Oct 06
Yeah .. and your dog is really the cutest dog ever.. except he is eating all of alans food.. here i have something for you its a daily report from Emily's doggie daycare.. Name:Leroy Date:October 27/28th What I learned: That alan still does not share with me, that the cat peanut is crazy and jumps on alan, Mommy and daddies bed is lower to the ground then aunt Emily so i have to jump a little higher. What I ate: About 3 cups of dog food, 2 bone treats, some stuffing from the snake, and one small peice of cheese. Bathroom times: went on arrivle, walked when woken up at 6.. tried to get into your house couldnt so walked one more time when got home for long car ride. call me when you wake up ..


• United States
28 Oct 06
Well .. they are cute.. but i have a beagle at home .. and i think two cute dogs mixed is 2times as cute.. just look at that lil guy .most of the puggles have the pug curly tail ..

• United States
2 Jan 09
I love these dogs. They are so cute. right now i have a pug and i used to have a beagle so it was weird seeing both of them in one dog. I think that are adorable though.