Life Begins at 40?????How true this is???

Philippines
5 responses

• Philippines
31 Aug 07
Wow Ive got many information about this!!! kip on posting

• Philippines
31 Aug 07
I am also interested because I want to know what is the details about it

• Canada
31 Aug 07
I can't resist this I had to laugh because it brought the memory of my 40 th birthday. The one thing I am not is a drinking woman. Well turning 40 is a big deal and my daughter saw this as a mile stone, or maybe just a good excuse to take Mom out on the town and show her the good life. Well did we have fun. I even ran into a co-worker who was flabergasted that I was out. Well the fun was over the next day and several days after that. Oh I never did get to the part that life begins at 40 but at 40 I was OK and doing well, working and making my own living. Then some smart = = = told me no no no life begins at 50. Well I told my daughter if I didn't get grandchildren pretty quick I plan to adopt some. Well finally I get the good news much later on of course that I'm going to become grandma. Oh how happy I was about that. I thought about this a lot in the next month or so and I thought it's time to quit smoking and improve my life. So I quit smoking and what happens I have a heart attack before my grandson is born. I got over that and now have a grandson and a granddaughter. After I quit smoking I tacked on 50 pounds. I need to loose this baggage but afraid it may kill me hehehe. So when does life begin ??? Well hon in my opinion life begins regardless of age but with kids, first your own then grandchildren. They are my whole life!!! Birthday advice for turning 40 is, "Don't party till you can hardly party, because it hurts too bad at that age." hehehehe Take Care!!!

•
31 Aug 07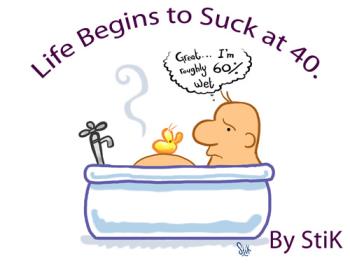 I am going to be 40 next month and am dreading it, it was one thing going from my 20s to my 30s, I looked forward to it. But now I'm fast approaching 40 and I can't see how life will "begin". I've already established myself in my career, have been a home owner for 15 years and don't have to struggle to pay my bills. On the down side - already I've got health problems such as diabetes, have been told to cut down on some rich foods and this will only get worse. Several people close to me, including my husband have recently turned 40 and NOT one of them said they feel different - certainly not better about life and that it's just a number and they're waiting to find out what this "life begins at 40" is all about. People keep telling me not to freak out - that 40 is to new 30 - but they're just saying that to make me feel better. I am not seriously freaking out - after all - it really just is another number and I imagine in 10 years time I'll be feeling the same way about approaching 50! Scary thought!

• United States
31 Aug 07
Hello Joe_leo_27, I didn't find 40 to be much of a mile-marker. I was more stressed about turning 30 than 40. And, I cannot help you prove that life begins at 40, because I tend to believe that it's all what we make of it, regardless of one's chronological age. However, the phrase may have something to do with the fact that, in most cases, by the time one is 40 they have enough experience and hopefully wisdom under their belt, that they tend to make more confident decisions -- where they use their own wisdom to avoid the pitfalls we all so often experience when we are younger. Also, the phrase may relate to the fact that until recently, most people began raising a family in their 20s, so by their 40th birthday the child-rearing part of life would have been winding down. For many, this equated to the most challenging part of their lives as being behind them. I've learned that 'age' is as much a mind-set, as a reality. I know folks who are well into their 70s who are still very active, fully enjoying their lives. Personally, I like my life today much better than my life at 30, or 20. I would never wish to 'go back'. I believe that all of my decisions, right or wrong, have led me to where I am today. I look forward to my future adventures and experiences with a calm confidence, genuinely believing that I will find a way to overcome life's obstacles, and enjoy the process. What's funny is that I remember thinking in my 20s that 40ish was really old. Silly me, 40 isn't old, unless we think it's old.