Artists create 'Foreclosure Cat' portraits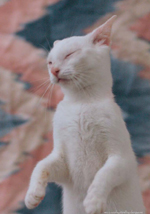 United States
August 31, 2007 4:42pm CST
From Disney animators to greeting card artists and children's book illustrators, artists around the country are creating portraits of the more than 50 "foreclosure cats" and kittens. The cats were discovered by a Cincinnati, Ohio, rescuer in early May, apparently weeks after an evicted man walked away from his home without telling anyone about the cats and kittens trapped inside without food, water or medical attention. The foreclosure cats gained national attention when they were featured in a business publication as the latest victims of accelerating foreclosure trends nationwide. More than 40 of the cats and kittens are still seeking homes, many only recently spayed, neutered and sufficiently recovered from their ordeal to be ready for "forever" families. The art is being donated to raise funds for veterinary care and to help find adopters and foster homes for the abandoned animals. Robin Moro, a Cincinnati artist who initially answered the call for help by fostering two of the cats, Delta and Lucy, came up with the idea to invite artists around the country to contribute original art to the project, in the form of portraits of each cat."Artists as far west as California, east to Rhode Island and south to Florida were inspired by the plight of these cats and kittens and have created or are working on portraits," said Moro. Media include acrylics, oils, pastels, fabric and digital. Rhode Island artist Janet Parker Prata created portraits of three of the cats, including a framed mirror featuring Titus, an orange tabby. Cincinnati artist Karen Kurak has created fabric art of Max and Mae, and Moro herself is contributing four paintings, two each of Delta and Lucy. Some of the cats and kittens bear permanent injuries and scars such as eye damage, blindness or chronic colds. The artists were asked not to hide these characteristics, while capturing the joy and energy of animals finally receiving medical care, attention and love. Cincinnati artist Meredith Smith captured Tortellini's joyous spirit by showing the kitten's damaged eye as a happy wink."When I saw the most recent photos of Tortellini, she seemed so happy, confident and completely unhindered by the permanent damage to her eye," said Smith. "I wanted my portrait of her to express these traits and present her in the dignified way she deserves."A Web site, www.ForeclosureCats.org, originally created to solicit volunteers, accept foster and adopter applications and donations, has been revamped to include the art, as well as photos and stories about each cat. People can see the art, read about the artists, and order framed or unframed prints at the Web site. The original art, once completed for all of the cats, will be sold with all proceeds going to help with veterinary bills, supplies, boarding and other expenses for the cats. Adopters will receive prints signed by the artists. Copyright 2007, CommunityPress.com
5 responses

• United States
1 Sep 07
Its really good that these artist are doing this and that the poor cats and kittens were rescued..I just hate to hear these horro stories because they are so sad.I do not understand how anyone could mistreat an animal,surely these people are some of the wicked among us..I adore my animals and i just cannot see this type of mistreatment but it is here and i do know that people do it...I do know this sounds sorta silly but i always wished that a law would be passed to where the people trying to obtain pets had to sign something saying they would be a good owner and maybe go through a little legal stuff before they could even own a pet...Better yet if a pet is mistreated the perverator would be hunted down and punished...but im afraid this will never happen,my heart just goes out to these poor neglected animals...

• United States
1 Sep 07
what you do is awesome,i do remember you having to turn one person down on a pet because you knew that the the person was not suited...I just wish that all these pet stores and the ones who sell pets,like breeders and such were like you.Maybe one day the ones that are in it just for the money will look at these pets as having feeling, the same way you do.You are doing an awesome work and i appreciate you for that..

• United States
1 Sep 07
Poor cats, if I knew about this sooner, and I had the money, I would help out.

• United States
1 Sep 07
What a wonderful discussion here ElicBxn!! I not only looked at that website but watched the video that told the whole story about the house that had the 62 cats abandoned there...They're all such beautiful cats, and kudos to those artists who are doing this project How can any smuck just abandon the house and leave all those cats any way...Is there any further news about the man who owned the house and if they found him?? They should slap charges against him

• United States
1 Sep 07
This stuff just happens way too often. Thankfully they were found, and now they're finding homes. I hope they catch the idiot that ran off and left them, and make him pay. Not only that, but I hope he's never allowed to have pets again. I hate these people.

• United States
31 Aug 07
I think this is wonderful; that people are willing to do this to help cover these cats expenses and help them find new homes. I had not heard about this incident, but in just the last week I have heard of 2 other cases across the country that were similar.