food labels - do you read?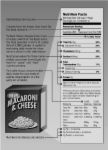 Philippines
August 31, 2007 7:08pm CST
do you read food labels? do you read the nutritional facts on food products?are you conscious or aware of the total calories that is written on these foods?I am not that conscious on food, and I naturally dont read the nutritional facts, but I read the ingredients too. sometimes I disregard and dont buy the food product that has lots of sodium content in the food.
2 responses

• United States
1 Sep 07
I do but only when I am cooking for someone who is allergic to a certain type of food or when it is someone who is calorie conscious. Other than that no. I pick the food I like and I do not worry about what is in it.

• United States
1 Sep 07
not really. but i am now taking herbal life which is really helping with my migraines. but that is as healthy as i get.

• United States
1 Sep 07
for the most part i dont read the labels. the only time i do is if i am trying a new product for the first time. then i like to check out the label, to at least be sure im not practically eating nothing but fat LOL!