what does your kid do to get any attention?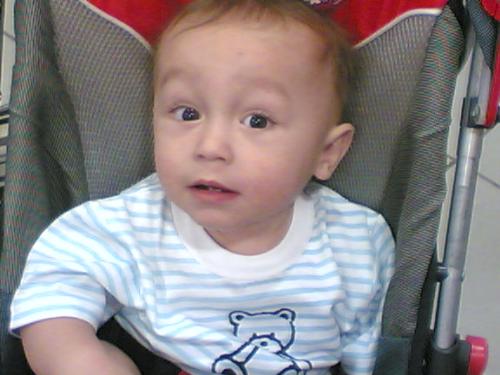 Australia
September 1, 2007 12:18am CST
to all the moms out there, what are the things that your kid do to get your attention? that is my son and he is ten months old already... everytime we put him on his crib... he used to do fake cough and fake cry just to get our attention... and we will get him out of his crib.. and everytime were on the mall or inside the supermarket, he will do a fake laugh till his face turns to red of laughing.. and all the people who will hear it will look at him and laugh as well... how about you? does your kid do the same?
7 responses

• Philippines
1 Sep 07
well my first born sure knew how to fake things.... hahaha he can even fool me he is not feeling well so he can skip classes. kids are cute when they do that like your son, but when they get big it will be so cute you want to stranggle him...lol. joke wink wink

• Philippines
2 Sep 07
aha!!! so you are just like that too.... faking that you dont feel well.... lol. well kids do a lot of tings and we should understand it.... after all we became kids too and sometimes did something outrageous when we wer younger.


• Malaysia
4 Sep 07
Hello jHoEn16, I have a one year old son who just celebrated his first birthday two days ago. He always do all kind of things to get my attention. Whenever we go shopping, he will start to 'mumble' in his stroller, hoping that I would take him out from it. He will just shout in his own baby language whenever he thinks that I ignore him. And whenever he hears my conversation with someone in the house or on the phone, he will start to blink at me and make a funny face just to make me stop and laugh at his acts!

• Malaysia
4 Sep 07
Hello JHoEn16, Oh, yes! No matter what they do, they still look cute. My son is an apple of my eyes. I love to see him giggling. I still don't believe my eyes that I have someone to call my son! Sometimes I feel like I make him a spoil brat myself... No matter what he does, I still agree with him. He loves to pull my hair and kisses all over my face very hard whenever he gets angry....and mind you, it still OK for me *laughs*

• Australia
27 Sep 07
oh! just like me... he pulled my hair bang my face... but it was still okay with me he was too young and he doesnt know yet if its good or bad... he was the apple of my eye too and just like you i still cant believe that i have a cute son now thanks pal for sharing

• Guangzhou, China
27 Sep 07
Probably my son is still very little, he is only 3 years old. So his action is quite directly. He will just call me Mommy! Mommy! So I have to respond to him:)

• Australia
2 Sep 07
My children are grown up now but my daughter wasn't the least bit subtle, she would just throw herself down and scream. Yes I do mean full blown tantrums and guess what! The only thing that has changed is....she doesn't throw her self down now and she doesn't howl like a banshee, it all comes out as anger. Not terribly easy to handle.

• United States
1 Sep 07
My son was an early talker, so he's been telling us what he wants for quite a while. If it's something he doesn't know the word for, he used to just grab our hand or leg or whatever and point at it, and say "Pease!" Now he tells stories (he is 19 months old). If he thinks I'm not paying enough attention to him, he will come up to me and say something silly like "Mommy, Trinie (the cat) ate Twixie's (our dog) tail." and then he laughs. If I don't laugh or tell him he is silly, he yells "MMOOOMMMMYYY!! Elliott is talking to you!"


• Philippines
1 Sep 07
He'll tell something unusual like, Mom Ate spanked me this morning...I cried...he's making stories so I have no choice but to listen to his worries.