If you won a NEW vechicle,would you keep it or sell it for the money?Why?

Canada
September 3, 2007 9:56pm CST
If i won a new vechicle,i think i would sell it.I have a van and it works good,plus the insurance is not high.So the money would come in handy for buying a camper or spoiling myself with something that i would really like to have.Whats your idea?
8 responses


• United States
4 Sep 07
I would either sell or trade the car. I would downgrade to a used car that runs good and has good gas mileage and keep the change. That way my insurance wouldn't be sky-high. Although there is no way to get around the taxes unless you give a good portion of the money to charity. And I have needs of my own, not to be selfish.

• United States
4 Sep 07
So you get around the taxes by selling the car soon after receipt! Even better, but they don't tax what you get for the car? If so you would have to take a good hit on the asking price to get a decent amount of money without having to pay Uncle Sam.

• Canada
4 Sep 07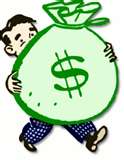 Hi peanutjar! With newer vehicles you seem to pay out the nose for insurance so I think that if I were to win a vehicle, I would sell it because I have a vehicle already and could use some extra cash lol. I'd buy something for me, my daughter, and hubby then put the rest in the bank to spend later on bills, rent, groceries, etc.

• Canada
4 Sep 07
I got a good gag when i owned a 2000 intrepid my insurance was 140.00/month(fully insured)then i got a new 2006 dodge caravan and its 92.00/month!(fully insured).There are some new ones that the insurance is much lower,i still dont understand why,but im not complaining about!lol:)Yes,im sure my daughter would be the first to get a gift.:)

• Canada
5 Sep 07
I guess it all depends on the vehicle. My Neon is more for insurance then a minivan would be because the Neon is classified as a sports car and a minivan is a family vehicle. If I were to win a brand new minivan I'd probably take that and then sell my Neon. I bet that would make my daughter happy too as she'd have more room!

• Philippines
4 Sep 07
No matter how beautiful or new the car is, I'd rather sell it and maybe invest the money to venture for business. I don't know how to drive, not to mention the gas prices here are very high and the traffic that takes for about an hour to move from one block to the other!;)LoL I might buy a lot and turn into a four door, two-storey apartment with garage. Less maintenance and more income, so I guess that'll make me feel more relaxed and enjoy the SIMPLE life!;)

• Canada
4 Sep 07
If i lived in a city i too for sure would sell it!I wouldnt need it.Thats a very good idea raijin!:)

• United States
4 Sep 07
Nah. I would sell and invest the money. Claiming it it requires you to pay taxes, too.

• Canada
4 Sep 07
I enjoy used vehicles more than any new ones, so i wouldn't keep the vehicle! I do my own maintenance and mechanical work and it wouldn't be a problem for me to keep what i have. I don't know what i would do with the money after selling the vehicle because i have all that i need at this time! Maybe i would buy a muscle car! Take care Peanutjar.

• Canada
4 Sep 07
Hello budsr03!Ohhhh yes,a muscle car would be a nice treat!:)

• United States
4 Sep 07
If i won the vehicle? Wow... For me, i will keep it. Because i don't have a car. My husband have a Van but we didn't have or used it, he's ex wife used it now. You know how hard it is for me? My husband is so nice but it too much..

• Canada
4 Sep 07
Ha!I would ride it milking it up around her.:)Yes men can be too nice sometimes.

• United States
4 Sep 07
It would depend on what type of vehicle. We have three cars, all 3 or 4 years old. If it was a family type vehicle I would probably keep it and get rid of one of the others. But if it was a sports car or a big pickup (gas guzzler) I would probably sell it.

• Canada
4 Sep 07
There was a man last year that won a new dodge durango from Tim Hortons coffee shop.That was the reason why he sold it,gas guzzler!He bought his wife a small car and such.:)