Ecology & The Minnesota State Fair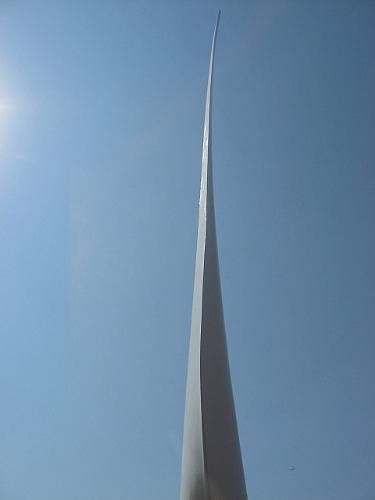 United States
September 4, 2007 10:56am CST
They have an exhibit/building called EcoWorld at the State Fair here in Minnesota. There were all sorts of exhibits dealing with ecology etc in this building. Wind poer, water power, electricity, gas, all sorts of things delaing with ecology. All were basically hands on also so you could see and feel the effects different things had on our earth. A very interesting place. I went in there with the grandson while the wife and daughter were at the Loreal exhibit getting some free make up/ Hahaha!! This is a photo of a blade for a wind powered electrical generator. I'll add the photo of the top of this later. There are 3 of these blades on this windmill. The blades are 130 feet in length. This thing is huge. I guess they also use it at the fair to generate some electricity for their own use. I didn't get into the tour booth as it was jam packed. But wanted to share these pictures as wind is now a huge source of electricity in the many states of the USA. HAPPY POSTINGS FROM GRANDPA BOB!!~
3 responses

• United States
8 Sep 07
Here in California we have our mountain sides scattered with windmills. The windmills generate a lot electricity to light up a San Francisco. I feel wind power is one of the best renewable ways to make electricity. Fee power once you pay for the windmill. I will rate the photo after I post this.

• United States
8 Sep 07
My sister lives in California and says she sees hundreds daily as well. Great souirce of electricity.

• Australia
6 Sep 07
This would interest me. I like to read & see of improvements in environmental technology, so neceassry in todays world. Wind Power has become popular as a source of energy in our State. There are at least three windmil farms set up, one only about 30 minutes from where I live. I viewed your photo, rated it & added a comment. I hope to see these kinds of displays at the Adelaide Royal Show next week.

• United States
6 Sep 07
I have seen maybe 15 farms around here that are windmill farms. This blade is humongous too.

• United States
8 Sep 07
I think it is awesome that there is more and more windpowered and solar powered sources of energy for farms and other business. It's a shame that you couldn't get into the tour booth because it was so busy, I am sure the information would have been very interesting to learn about. But the picture is pretty awesome. It just gives you an idea of how amazing this could be.