Decorating on a budget: What do you do?

United States
September 5, 2007 12:52am CST
Do you decorate you home even when you're on a tight budget? What are some low cost ways that you change up the style in your home? When I feel like I'm in need of a change at home, I'll go to Walmart and head for their fabrics/crafts section and buy a yard or two of fabric that catches my eye. I'll make throw pillows with that. I'll splurge on curtains and then pick up some candles that go with the theme or colors I'm using to decorate with.
3 responses

• Hong Kong
8 Sep 07
Hey, why don't you try moving things around the house to make the difference? I think you just need that taste of freshness and you could sure have that when you move your furnitures around to create a not-so-familiar surroundings!

• United States
10 Sep 07
My mom does that all the time, lol, I'm forever tripping over something she moved. It does give a whole new freshness. I recently moved my "office" around and it gave me a whole new energy to work, in face my earnings increased too!

• Hong Kong
10 Sep 07
Great! Hope that will give you a better "feng sui" (Chinese luck thing) on your office and therefore your online earnings!

• United States
10 Sep 07
Thanks! I read a book on it once but I don't remember a whole lot, I want to read up on it again.

• United States
9 Sep 07
I have also bought pillow cases and sheets and made curtains out of them which is a cheep and easy way to go. Sometimes sheets and pillowcases are cheeper than buying fabric. Sometimes just moving nicknacks from one room to the next helps. People think you get new things when you move nicknacks from the bedroom or a spare room to the living room and visa versa. Adding ribon to a pillow that you did not like or needed some spiffing up helps also.

• United States
10 Sep 07
Those are all great ideas, thanks! Yeah our pillows are always getting make-overs, lol.

• Australia
5 Sep 07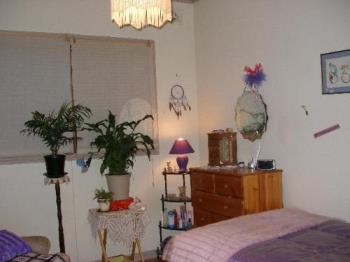 I don't do much redecorating but I do find just changing a room around does it. I have always thought changing a room around is almost like moving into a new house, it gives you a good chance to clean and it is just nice having the new look.

• United States
5 Sep 07
That is true, moving your furniture around is a great way to achieve a whole new look and it's free!