These animals give the word "fat" new meaning!

United States
September 5, 2007 11:48am CST
Yes, my friends, I found another video for you. These animals are humongous! I actually felt a little sorry for them because they were so big. But some of the pictures are so funny that I had to laugh. My favorites are the white Shar Pei (reminded me of my Meg), and the cat that is sitting with his back feet spread out in front of him and a look on his face that shows total insult! LOL Enjoy1 http://insanepictures.com/vid.shtml?0375.htm
9 responses


• United States
6 Sep 07
The 2 I know for sure that ARE NOT photo shopped are the 2 mice, only one fat & the cat that you liked so much. The fat mouse has been genetically breed to be fat & the cat looks worse than he really is. That position makes a normal cat look fat & while that cat might be hefting a couple of extra pounds, he's not really that over weight.


• United States
5 Sep 07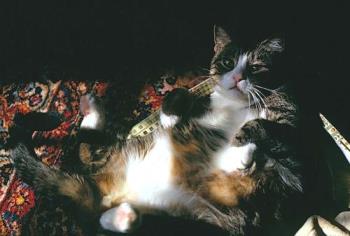 Aww--I feel sorry for those animals, especially the kitties....gee, makes mine look lean and mean...LOL...The cat you mentioned with his back feet spread out kind of reminded me of my Tommy--here's a pic of him

• United States
5 Sep 07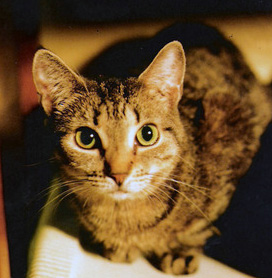 aw Missy is adorable..I used to have a Missy too....she had the biggest beautiful eyes going--If you don't mind...think I'll show off my Missy...sadly she's now in the Land of Bast


• United States
9 Sep 07
Are those for real? If they are, they are probably miserable, especially in the hot weather. They all looked like they had enough extra weight to make another animal. They were cute, but funny looking.

• United States
11 Sep 07
She needs to take the poor thing to the vet about wheezing, and put him on a diet. She can buy food for that.

• United States
11 Sep 07
I know that, and she knows that, but her husband is so tight with the money that he squeaks when he walks! I've already told her that if something happens to her kitty because he refused to take her in, I will make sure that charges are pressed by Animal Control, because I will be the one reporting him!




•
5 Sep 07
my granddaughters always say I am not fat I am cuddly bless them , I got loads of cuddles tonight as Kayleigh is leaving for uni on Sat morning , we will miss her as we watched her all the time when she was wee as her Mam and Dad worked full time xxx

• United States
6 Feb 08
Some of them are so big that they look like they can barely move. Our cat is big but she still runs, jumps and plays all the time. I think there are several of those animals that need to be slimmed down just so they can move around again. !!HAPPY VALENTINE'S DAY!! **AT PEACE WITHIN** ~~STAND STRONG IN YOUR BELIEFS~~


• United States
5 Sep 07
wow those were some really fat animals,i felt so sorry for them.its funny but sad at the same time because they probaply have alot of health issues,they need some jenny craig fast.lol the one poor cat by the scale probaply broke it so he was just laying down,kind of like i am sleeping and i cant get up,that poor thing lol.take care and thanks for sharing this.pattie

• United States
5 Sep 07
Those are hilarious! I don't think I have ever allowed my animals to become that fat, they would be miserable I would think. But, then again, most of my cats were strays and they were feral so I never really got to get close to them. My daschunds would be miserable if they were that big! But, it was really funny to see the poor things!