How do you tell your boss HE SMELLS?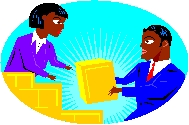 United States
2 responses

• United States
6 Sep 07
O My! lol Yea there is really now way to tell someone politely that they need to up their hygiene skills. And seeing that hes your BOSS....what really can you say? Perhaps talk to HIS boss and ask him to speak to him about it? I worked for a Data Entry company a few years back and this one lady hardly combed her hair to come to work, let alone take soap and water and wash or even try to cover it up with perfume. She just smelled, would have bits of only God knows what in her hair and her skin just looked all rough like it had never met a wet wash cloth and some soap. Now this was a grown woman mind you, and when the bosses would try and speak to her about it, her mother would come up there hollaring about a law suit for them saying something to her. I always thought, well if she didnt smell when she had her interivews, cos it took more than one to get hired there, when did her hygiene become a problem. I wouldnt hire anyone that came to an interview with dirt and debris in their hair and body odor. Im thinking your boss really is used to the smell and just dont think he smells badly. Could you possibly generate a office memo discussing the importance of proper hygiene? Thats the only polite way to say it without making him feel badly and pin-pointing him out.

• United States
6 Sep 07

Yes, and the office memo worked good too!! I was not going another day, he is so arrogant too! Imagine that he is younger than I and so much disrespect for older people . I went to my last supervisor, cause me and her have really good rapport and she typed it up and spread it around the office, hopefully he will purchase some good deodorant. Did you know some oriental people don't believe in wearing deodorant. And some people do not purchase things from Protor & Gamble either, there are plenty of other brands. Well hopefully he will smell better tomorrow!

• United States
6 Sep 07
Yes there are some races that dont use those types of products, which really confuses me since most of those races come from places that is hotter than the US! lol Well I hope that it does work for you and that he gets the hint. Your right there are many products for hygiene that are not made my P&G, Im sure he could find a nice deoderant to use instead of exessive cologne!

• United States
6 Sep 07
ya, like maybe some soap & water might work real good LOL

• United States
10 Oct 07
Unfortunately for some ppl, I'm blunt so would of wrinkled my nose up and tell him to please stand over there cause his stench is making me sick to my stomach.