Missing Pavarotti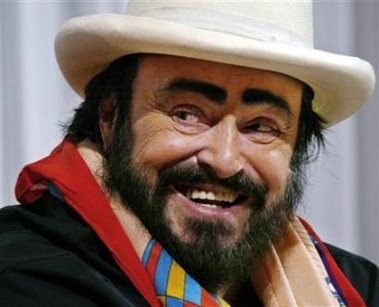 United States
September 7, 2007 12:45pm CST
A great light went out with the passing of opera great, Luciano Pavarotti. His voice was a pleasure to hear, and I believe that he is the only opera singer that I ever purchased a CD of his music. I truly admired this great man. I am not surprised at all that thousands have turned out to honor his memory.):
6 responses

• India
8 Sep 07
I may not be much of a connoisseur but i am a huge fan of pavarotti.With all the negative criticisms he had in his last years, he is the emperor of the tenor. My heartfelt regards for this great artist.

• United States
8 Sep 07
That's just what I was trying to say, mimpi, he had this aura about him that seemed to draw everyone to him. You couldn't help but love him.

• India
8 Sep 07
yes, you are absolutely right. Thanks for your tribute sweetie.

• United States
8 Sep 07
Will definitely be missed. Liked his voice, listening to it is truly something. Great voice and a great person overall. *salute*

• India
7 Sep 07
luciano pavaroti is gone and it is i wont say sad but kind of empty. he looked like a great soul and had child like eyes. this world a stage and what a stage. waiting for the curtain to rise, apple.

• United States
8 Sep 07
Yes, apple, Pavarotti touched me in a way that few performers can. I know that the music in heaven will be much sweeter with his beautiful voice among the others.

• United States
8 Sep 07
He had amazing talent and an a great personality from all I saw. His voice was astounding. Someone said that heaven now has a tenor in its choir. I guess that's true. His voice will certainly live on forever and he is the only opera singer I EVER bought a CD of too. He had such an amazing voice that it was mesmerizing.

• United States
8 Sep 07
Yes, wotfpatty, he made you interested in opera even when you thought you never could be. He truly was the man.

• United States
7 Sep 07
Oh yes, I think the world is missing him a lot and we will be in future. Its hard to fill up that place and Its amazing how the world is showing honour for him. My husband and brother--they have quite a lot of his work collection, I really never paid attention but had some experience but now when i look back i realize how big the work is and i am lucky i have those collection at my home.

• United States
8 Sep 07
Yes, cmsk, he truly left an amazing body of work. I am planning to add to my collection soon. His singing could bring tears to my eyes and a smile to my face.

• Israel
8 Sep 07
I could say that the volcano of opera tenor, has erupted it's last. Such voice of Pavarotti will be hard to be replaced. Let's then take solcae in Domingo Placido