OMG!! I can't stand it anymore...

United States
September 9, 2007 12:37pm CST
I just can't stand the licking noises of my dogs or when they are biting an itch...He drives me batty..I mean to the point where I just want to cry...I know it probably sounds stupid but I am telling you it is the worst of the worst of things that torment me..I would give up my hearing just so I didn't have to hear it... I sure hope there are others out there that can't handle this either...I have no idea why but it just sets me off...my husband says he can't hear it and I am like, "lucky you"....because I just want to die it is that horrible to my ears.... Share anything you like with me as long as it is done quietly....Thank you....
8 responses

• United States
9 Sep 07
It does bug me too when my dog is doing that. It also drives me nuts when I am trying to sleep and the cats get on the bed and clean themselves! Gotta love em.

• United States
9 Sep 07
I do love mine alot...It is just the noise and they know it...They roll their little eyes at me and keep on a licking...LOL

• United States
9 Sep 07
My cats clean themselves when they we are trying to sleep at night. They often sleep at the foot of our bed. I give them a gentle nudge to get them annoyed enough to find another place to rest for the night. They usually give a whine to let us know they are agitated over the fact that we are disturbing them.

• United States
9 Sep 07
Thank goodness I don't have any cats that would be double trouble for me...LOL..


• United States
10 Sep 07
I look at them and then shoo them out of the office area and shut the door.

• United States
10 Sep 07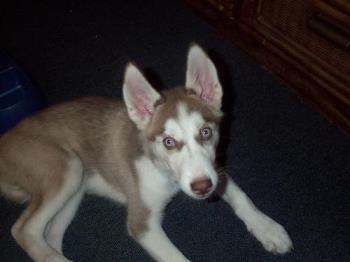 omg thats too funny,i had a sibirian husky that i gave to my mom when i had my babies because it was too much for me at the time because he was a baby himself,and he use to sit there and clean himself and scratch so much that it drove me nuts,its like ok you can stop now,your clean.he would do it for like an hour and i just couldnt stand the noise,it was yukky.i would twitch everytime he did this,he had no fleas or anything,maybe he knew it bothered me so he kept doing it to grab my attention,and if i didnt pay attention to him he would start it up again,he knew how to push my buttons lol.i mean what was he doing,especially scratching his ears too,was he digging for gold or something,or maybe a dog treat i dont know,hes so lovely though and i do get to see him all the time.but at least now my mom has to hear it and not me,lol.pattie

• United States
10 Sep 07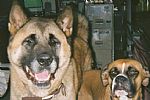 He is so cute. You are so funny..Mine actually roll their eyes at me as if to say too bad, I am going to do it anyway..If I pick of the spray bottle my Akita will leave the room...Yeepee...

• United States
10 Sep 07
I know that sound quite well!LOL One of my cats sleeps with me and when she is cleaning herself it drives me crazy. Especially when she wakes me up from her cleaning herself. She does the same thing when she has an itch.

• United States
10 Sep 07
I hate it when my Akita wakes me up because he is gnawing at his leg like it is a peice of corn on the cob....LOL..I can even hear him through the door...


• United States
10 Sep 07
Thank you for the laugh..My dogs know that it bugs me and they roll their eyes at me...LOL


• United States
9 Sep 07
They don't have fleas and my Akita has allergies this time of year...I give him benedryl and at night he does not sleep in our room...It is during the day that he drives me batty...It only lasts a couple of months and then he is back to normal...

• United States
15 Oct 07
Give your pet a bath in dawn dish-washing liquid the fleas die quickly.Also mix some in a sprayer to spray infested area`s they die to.