Spruceneedle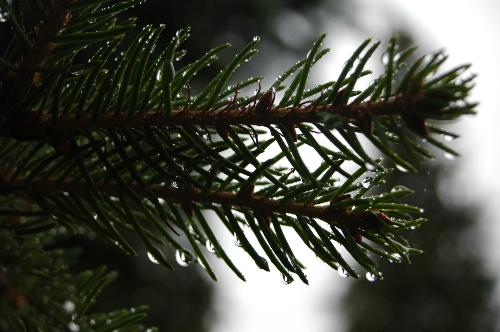 Sweden
September 10, 2007 7:53am CST
You must think that I am crazy to go out and take picture like this one but I like this shot. when I woke up this morning and look out of my windowe and sawe the glittring rain drops I just hawe to go out and catch them. Iwas out around one houer and took atleast 250 pictures and I keep 5 this is one of them I try to get it from a wiew you newer look and I think I did that.
7 responses

• United States
10 Sep 07
Thanks for sharing that is truly beautiful.

• United States
10 Sep 07
Hello Matte5, The shot is gorgeous & moving. I like that you've focused on the smallness of the tip of the branch. It creates a more intimate understanding of that single branch, in that precise moment. For me, the image evokes a quiet sense of solitute ... as if in the silent hours of a crisp, clear winter morn.


• United States
11 Sep 07
I don't think you are crazy. I liked it! Its real calming, its even computer background material. Some people like simple and nature. And that shot is as quintessential as it gets Matte.

• Philippines
11 Sep 07
Are you a photographer? Your an expert photographer for me. I'd love your picture. Do you have a class for photography? If you do I want to enroll in your class. Not kidding I admired your pictures. The angle it was shot and the scene. And best of all is the quality of the picture, it was great. It just a branch of leaves but it turned out really good with your artistic mind. By the way I'm learning photography so any tips from you is highly appreciated.

• Sweden
12 Sep 07
Hello katkat. No I am not a photographer its only a hobbie. Thanks for all the nice coments and that you like the photo.one tips is to take alot of shots ewery time and try difrent settings and anglet and then you will learn what can be used with difrent times.

• Canada
10 Sep 07
Hi matte5!I really like your picture!Actually i like all your pictures that you took!I love pictures of nature,especially rolling hills,mountains,lakes and birds.:)

• United States
10 Sep 07
very nice picture,all your pictures just make me want to move to where you are,the nature and scenary around you is abouslty breath taking.no matter what picture you take matte,you get a a+ in my book,you do a great job.pattie