My Flowers!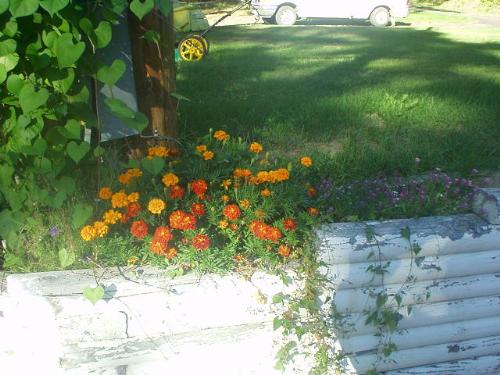 United States
September 13, 2007 1:29am CST
I love flowers and have sense I was a tiny weenie little girl.. My grandmother and I use to plant pansies and things like that, those of course were her favorites.. Here is one picture cause that's all I can upload one at a time of the flowers that I had planted it's a nice colorful part of my yard...
4 responses

• Australia
13 Sep 07
Yes it is amazing what flowers in the garden can do, they can cheer you up when your down, they smile up at you, I have kust recently spent a lot more time in my garden as it did get a bit out of control or I should say the weeds did, but I have worked hard over the last few weeks and it is looking good....

• United States
13 Sep 07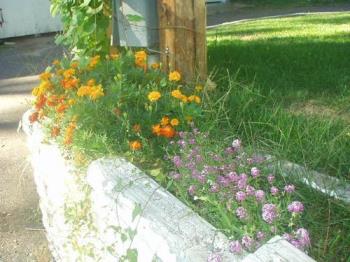 I think some of those are weeds I will have to go out tomorrow and pull them but first make sure they are before doing so... Here's a better picture though that I like it kinda show more color to it...

• United States
13 Sep 07
I love my yard too! I love picking out flowers and planting them in my yard. I have a ton of photos that I need to start uploading...I am new to this site, and don't' have it all figured out yet...it's a little hard to navigate sometimes.

• United States
13 Sep 07
i love flowers,they really brighten up my day and always look so beautiful.my kids like to make little flower arrangements for me which is so sweet,but the weeds are killers,hello there hgosinski,wanna say hello and wish you lots of luck,and hello to you too lilaclady.


• United States
19 Sep 07
Awwww. My grandma always had flowers along side her house...I have some lilies and tulips..I want to plant more next year...

• United States
19 Sep 07
My dad had that too and he also had roses as well.. Sense he passed though my mom stopped taking care of them so they don't even grow anymore.. I think next year I go out to her house and replant them and hopes that she will than take care of them after wards but I'm not very sure about it though...

• United States
19 Sep 07
That would be a great idea..Even if she doesn't you could go and tend to them...

• Philippines
19 Sep 07

Flowers are lovely, any kind. They have their own distinctive beauty and fragrance. They are colorful and beautiful and they give some sort of happiness even just by looking at them. I love flowers too. But we don't have a good yard where I may plant.

• United States
19 Sep 07
We don't either that's why they look like they are kind on a hill if you want to say.. We have blacktop as our drive way and on the other side of that is my flower bed... It's just nice to go out and see them or even look out the window to see..

• United States
19 Sep 07
Not bad, not bad at all Wisconsin. Its a great start if you are trying to do something "ambitious" :) If its just for memory sake then I think you've done a wonderful thing, despite size. Sorry if I sound offensive, I think big with a lot of things I do. I really liked your flower combination. Even +'ed the thing. I wish you, your family and too a lighter extent the flowers well.

• United States
19 Sep 07
Thanks progamer, I've always had a thing about flowers I think cause when I was smaller my grandmother and I used to plant them every year and it was something I loved doing with her.. After she passed away I kept doing it..What I really like about flower are the colors and how they can really light up someones day just by looking at them and knowing there is a meaning behind them and the memories they give a person..