Tulips

Pakistan
10 responses

• India
13 Sep 07
Tulips are very good . I like tulip flowers especially red tulips and yellow.

• Pakistan
13 Sep 07
Sure they are very good and red and yellow tulips are really lovely coolor, ur choices are really good, thanks for first to comment regards

• China
19 Jun 08
I have ever seen tulips in a northern city of our country where I spend my university life.there are many colours of tulips,red,yellow,pink,black and so on.they are so beautiful.they have left a deep impression on me.

• United States
26 Jun 08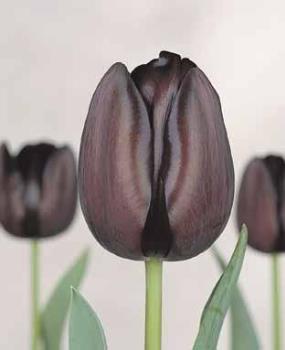 I have mever seen a black one . That would be pretty cool to see . I will have to look it up online and see what I can find . They are one of my favorites flowers . I also like roses, sunflowers, and of course orchids. Here this is what I found when I went searching . Q. Where can I buy the rare black tulip? A. We have it—Queen of Night. But black tulips are not rare — black tulips do not exist! What do exist are some very, very deep purple tulips, some of which appear almost black. The search for the fabled black tulip has been an epic quest for centuries. In 1850 Alexander Dumas, famed French author of The Count of Monte Cristo, The Three Musketeers and The Man in the Iron Mask, captured the popular fancy with The Black Tulip (now with Oxford University Press), a romantic tale in which a fictional black tulip figures in a love story laced with murder, torture, greed, dastardly intrigue, and sudden surprises. Today, the lure of a black tulip still attracts. Dutch hybridizers have achieved some very, very deep purples. 'Queen of Night,' for example, is officially listed as "deep velvety maroon" and is very, very dark in color. But achieving a true black tulip, say the experts, is not possible (yet still worth the try!).

• Pakistan
26 Jun 08
Hi dear thanks for such detailed reply, i do agree and all flowers are lovely . regarding black tulip or any black flower, i have not heard or read, u r right deep purle tulip is called black tulip and deeep marron rose is know as black rose

i appreciate the time u spent for searching, where u do all the search. and the story book they r referijg :Black Tulip" i have read it and inspired by it too, as i read that when i was 12 or 13, age where u start dreaming Big LOl Take care


• India
18 Jun 08
As such I love flowers.They are spirit lifters and as the famous lines go.."A thing of beauty is a joy forever". Tulips are one of the most beautiful flowers nature has to offer. I too love tulips.you are so lucky to be able to grow them in your garden.Here the climate is not suitable for tulip plantation and so we have to purchase them whenever required.

• Pakistan
18 Jun 08
Hi dear thanks for ur reply and i agree with each and every words of urs. u can see floweers are such thing that on any occasion u use then and they fit their. either its happy event or sad event.

And dont u think these are the floweers and nature which give idea of color and fragnance to mankind

ur nick reveals ur attachment and liking towards flowers. Daffodil is beauty as well

Take care



• Pakistan
27 Jun 08
Hi dear, thanks for response sure all flowers are lovely and beautiful and its understandable that out of them some really make u mesmerizing and reason can be vary, Daffodils are very lovely too, i would suggesrt that u should have some ever green indoor plants and flowers and use them in ur home. what u think Take care

• Philippines
14 Jun 08
Hi! I like that flower but it seems that no one had ever given me. It's always roses.

• Philippines
26 Jun 08
i love tulips. but i think we can't grow it here in our country because of the hot weather we always have. i don't think it can survive here, unless i put some greenhouse for it

• Philippines
26 Jun 08
I think tulips are appreciated by most people for its beauty. I love these flowers, there's something about them that makes me feel better, but if I may add, it sometimes depends on who gave the flowers, but then---tulips---in general, are one of the beautiful things given by nature.

• United States
26 Jun 08
Oh I love them so much

They are just a lovely flower . I have yellow tulips that come up each spring . My favorite colors though are pink and purple . My fiance bought me purple ones for my birhday this year and I loved them . My dang cats ate them tho and i was sad . They should of lasted so much longer .

• United States
18 Jun 08
Hello cupid, I also love tulips but mine is not giving any flower yet..I am excited to see them with a different colors!