Have you ever seen a posing SWAN?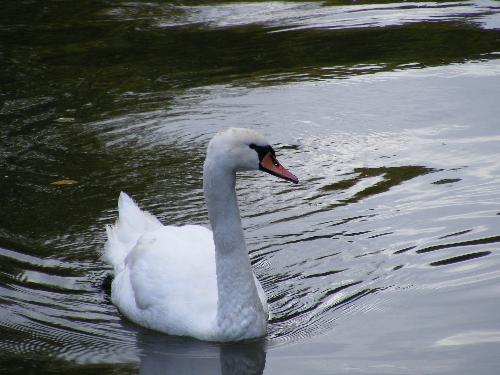 Netherlands
September 14, 2007 6:40am CST
Hi, yesterday I was for the entire day in Amsterdam and shot many photos around. When I saw a beautiful swan swimming around in one of the cahnnels, I starting shooting pictures of him, and lo and behold, this smart bird started posing like a photo model around, while coming closer by to me:) It was such a funny expirience that I couldn't stop laughing for a long while after leaving the bird where he was. What do you think of it? And have you had such a swan showing up in your life ever?
7 responses

•
14 Sep 07
Oh I love swans too. They are beautiful, noble creatures. Did you know they mate for life? And if anything happens to their partner, they can pine away and die just like people can? They are actually a "protected species" here in England - protected by an ancient Royal Warrant. It is a very serious crime to hurt one in any way. Not sure I've ever met a posing one before - but there are loads on the Thames and I often go and feed them and their cygnets. Thanks for this discussion my friend.

• United States
14 Sep 07
Here in Minnesota we have whats called a Trumpeter Swan that is alos protected. These are huge swans also. Anyhow there are many birds that mate for life and a swan will pass after awhile after it's mate has. HAPPY POSTINGS FROM GRANDPA BOB !!~

• Netherlands
14 Sep 07
Hi Rosie and thank you for your contribution my friend :) and sure I knew that the swans are mating for life with one partner, and thanks for adding to my knowledge about the UK law against harming these wonderful birds :) This law should be everywhere, as I know there are people that do harm swans, and more... So glad to hear that you often go to feed them, and watch them while with their cygnets, and here in lelystad we have them too in the canals, and they look so wonderful as a family :)

• Netherlands
14 Sep 07
Thank you for contributing to my/our knowledge GP Bob, and I am glad to know that the swans in your region are protected too :)

• United States
17 Sep 07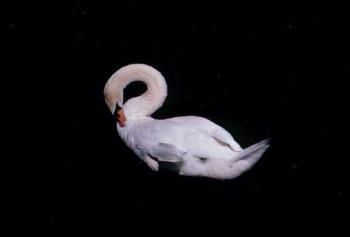 Oh--what a great photo, and birds in general are a favorite of mine to photograph....yup I have a lot of photos of swans that look like they were posing... but I think this is my all time favorite here

• Netherlands
17 Sep 07
Yours picture is wonderful really Pyewacket and thank you for dropping by and responding my friend! Have a great week ahead TheFortunes

• United States
17 Sep 07
Thank you..glad you liked the photo...I'm in a tizzy trying to catch up with mylotting...sure wish I could use the art of visualization to get more time for everything..hehe

• Netherlands
17 Sep 07
LOL Pyewacket, yeah, it will be nice if we could use visualization indeed, as I have neglected my sites all over, and need to stop MyLotting and do it for a certain amount of time daily instead of letting all the rest for what it is ;)

• United States
14 Sep 07
I rated and added a comment ot the photo. I live near a Nature center. We have swans, ducks, geese, egrets,and many tyo=pes of cranes there. I did a few discussions awhile back on the birds etc there with ophotos attatched as well. So I love nature especially all it's beautiful posing creatures. Seems nearer the city one goes the tamer and more likely a swan will approach so closely also. Thanks for sharing it and I am happy you had this pleasure as well to photograph nature as well as other things while in Amsterdam. HAPPY POSTINGS FROM GRANDPA BOB !!~

• Netherlands
14 Sep 07
Thank you GP Bob for your comments on the photo and for rating it :) I really appreciate it, and rest assured I will check your discussion with birds and photos too :) And you are right about the swans living close to us people in teh cities, they do get tamer than the once in the wild, and are much more easily approachable for photos, and feeding. I hope to be able to touch and caress one at least once :)

• United States
14 Sep 07
Those discussions of the birds and nature center will be buried in the pack of my discussions as they are a couple months old. But feel free to dig them up again. tee hee. It's always nice to see old discussions brought back to life. Thanks.

• Netherlands
16 Sep 07
Hi again GP Bob, I did replied to some of your older discussion and rated some of your photos too. Most of your discussion are very helpful indeed and I enjoy having you on my friends list :) Thanks again for all advices you give in there too ;) And have a great weekend too

• Australia
17 Sep 07
I had a look at your photo, rated it & wrote a comment. It certainly is a lovely shot of a very graceful swan. We have swans at the zoo & some parks. There are a lot more ducks than swans here. Oh, we do see quite a few swans on the Murray River.

• Netherlands
17 Sep 07
Thanks for contributing Jennybianca and for your nice words and comment too :) These biords are really awesome :) Have a great week ahead too TheFortunes


• Netherlands
16 Sep 07
Hi Sylvia13, thanks for contributing in this discussion, and I think you're definitely right about peacocks posing too...LOL, some of the most gorgeous birds do know their beauty is apprecited, and we people do almost the same things ;)

• Malaysia
14 Sep 07
I went for close up just now. I'm speechless for the clarity of the photo/image taken and the natural posting by that swan. May I ask you, thrfortunes; In Amsterdam, swan in open market selling at what price? I like to eat its meat; duck, swan and goose.

• Netherlands
14 Sep 07
HI Michael, and thank you for the nice words about the photo :) I love taking photos around and do it on a daily bases too. I did not know that swans are eaten?? This si really a sacriledge, just like eating horses is for me... I have no idea what the price of swans is, or if they are sold here as a food/meet for consumption, and it will be such a great waste of beuty and splendor. The gooses Ican understand as they produce these just like theydo chickens, the ducks though - no. But I guess where you live it's seen as normal, and many are doing it?


• Netherlands
14 Sep 07
Hi Lilaclady, and thank you for the nice words, and I amso glad you like swans as much as i do. These birds are so raceful and beautiful, and I would like to caress one but have never been able to. Any chance I get to make a photo of swans I do it gloadly, soi have uploaded a bunch of these to my account on flickr.com as a few of these are really marvelous :)