My Kitchen...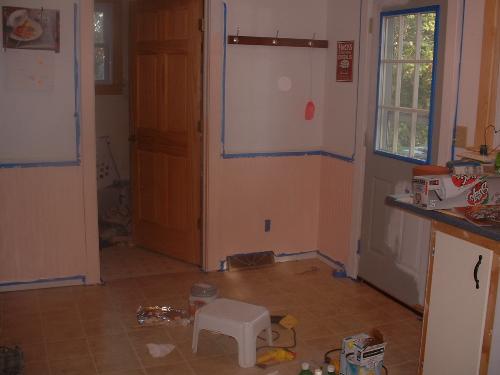 United States
September 14, 2007 1:06pm CST
Well as you may or may not know, I had taken a break from mylot for a little while so I could get some work done on painting my kitchen. I still have a LONG way to go, but I'm to the point now, I need dear hubby's help. (he has to help take the cabinet doors down.) I've included a photo of my work in progress. I've gotten most of the wood trim done... still have the cabinet face frames, window trims & the doors to finish. Then it's to the walls (upper 1/2.) That should be the easy part as there aren't 10 million little grooves to fill in. I may just leave it alone for a while, and wait until my MIL can help me wallpaper it. What do you think?
2 responses

• United States
14 Sep 07
It looks like work in progress to me. Good for you on the painting. I love the color peach. I know it takes a lot of time and patience to redo a room so good luck to you. Make sure to share a finished photo when it is all completed.

• United States
14 Sep 07
Thank you sunshine! I'm having fun with it, but I wish my hubby were here to help. We always manage to have a lot of fun together when we paint. (he paints the walls, I paint him! LOL) yes, i'll post the finished photo. It has been a work in progress for 3 years, though, so you will just have to patient with us. Take care!

• United States
14 Sep 07
Well you 2 need to hurry so you can get up here to Minnesota to do my kitchen remember? Anyhow I love the color. I really like the door too. I am looking to get a new interior and screen door for my dining room. The one I have now is solid. No window. I want the multi panels like the one you have. been looking and pricing. Will probably get that done in a few weeks time before it gets too cold here. Commented and rated the photo as well. Thanks for sharing. Now get busy you you can do mine before the snow falls. HAHAHAHA! HAPPY POSTINGS FROM GRANDPA BOB !!~

• United States
14 Sep 07
Ow! I wish you would stop twisting my arm! LOL! We got our doors at Menard's. The wooden one goes into the bathroom, and the steel door (I can't remember if that's in the picture) heads outside. We got them for a decent price. OK, so with that said, name the weekend, and DH and I will be up there to help. We're always looking for a reason to travel, may as well be to a friend's home, right? Just keep a jar of those pickles for me, and maybe a nice apple pie?