Who was your first true love?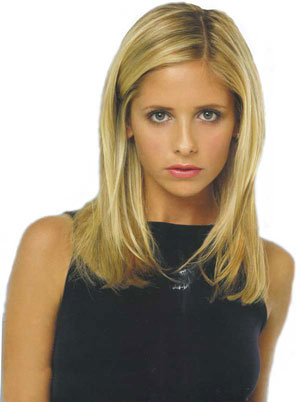 September 14, 2007 6:50pm CST
Mine was buffy the vampire slayer. she made me want to be a vampire! i still believe that if i swallow a litre of white spirits and some naughty pills i could break into her home and make her marry me! but that is our little secret! Who was your first infactuation and would you risk a restraining order on them?
6 responses

• Murfreesboro, Tennessee
15 Sep 07
*laughs* I'm more of a Willow person myself. =P That's the first real "tv" crush I can remember having... which was so funny because I had a crush on her long before her character suddenly turned into a lesbian. *giggles* I don't know if I would risk a restraining order, but I sure was obsessed with her. Or perhaps I should say "am" since I still am most likely to watch episodes that involve her a lot, especially the ones where she is kinky-looking vampy Willow. =p

• United States
14 Nov 07
Hi X, I see this got resurected so I thought Id stop by! My first crush was on Roger Taylor of Duran Duran. I just loved him!!! My best friend had a crush on John. We would sit and listen to their albums all night long and watched their videos on MTV. LOL What a trip down memory lane. My first celeb crush! Bay Lay Gray xx

• United States
14 Nov 07
Thank you!! :) Its getting back up there! I meant to comment on your Scott Baio(sp) crush lol Have you seen his show on VH1? He still looks the same to me! I did find him attractive, but not like Roger Taylor! He had the shy boy look. lol Prince huh? LMAO Im sorry D I dont see it, I mean hes not hard to look at, but to have a crush.....I dont know about that. I love his music though! ;o) Bay xx

• United States
15 Nov 07
Well D, I can understand liking someone for reasons other than their appearance. Ive been there. I guess Prince was the epitome of cool at that time. ;o) Bay xx

• United States
14 Nov 07
My first real crush was Barbara Bush. I realize that this is a common crush, so I suppose that I am a commoner. I can remain immobile for hours as I imagine running my fingers through her hair.

• United States
14 Nov 07
Barbara Bush -- Babs -- the more mature Bush. She is delightful. I hear she used to be a redhead before her current hair color, and I often think of that when I'm day dreaming. Ah, Babs!

•
15 Sep 07
And mine was Angel! Quite a collection of Buffy obsessives you're getting on this dscussion! I would definitely have risked a restraining order for him, he is hot! Even more so when he went evil, never thought i'd like a guy in eyeliner and mascara but on him it worked so well!

• Murfreesboro, Tennessee
15 Sep 07
*giggles* Yup, there were lots of good characters on Buffy to be interested in. I have every episode on DVD, and I must admit that I still watch that show really often. I loved it from the beginning, and they just kept adding more and more interesting characters. =)

• India
15 Sep 07
my first love n last love is my present love only...n going to marry the same person

• India
15 Sep 07
hey iam reallly sorry for that i could not understand that was u written and what it means?