Crash, Boom, Bang...

United States
September 16, 2007 3:06pm CST
When I got home last night from work, I discovered my bed and the floor covered in boxes. My cats were evidently playing on them and knocked them all over. Now, even though this was rather aggravating, a couple of good things came out of it. For one thing, I found a pitcher I had been looking for and the travel coffee mug I had also been looking for. What was even more of a surprise this morning was that when I unwrapped the coffee mug which had been a gift from my former employer two years ago, I opened up the mug to clean it and discovered a $5 gift card for Starbucks. That was a nice surprise! I didn't find any expiration date on it so I'm assuming it is still good. So, in effect, the cats did me a favor even though cleaning up all of the cassette tapes that fell out of a box wasn't fun. And, of course, they all looked at me with innocent little faces like they didn't have a clue why I was annoyed with them.
6 responses

• United States
16 Sep 07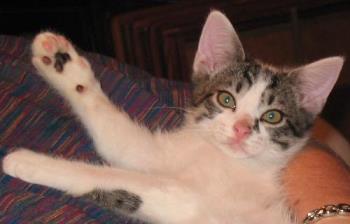 They are helpful little darlings, ain't they?Last night Rygel was doing something on top of my bookcase & fell on me! I got a few scratchs out of it! Then the idiot went back up there & I found out that he'd been on TOP of the bookcase, trying to get at the stuff I had on the top shelf to keep them away from the cats!I told him to stop it, he looked at me & did so, but then, when Nef got up on top - to lay down since she liked to be high up - he went over & tried to start a fight with her. I told him to stop it again. He's such a busy boy he's just gotta be stirring up trouble!


• United States
16 Sep 07
You guys are funny! But I, too, have cats that like to be up high. Since I live in a residential motel, they have a TV bolted up on the wall and several of my cats take turns sleeping up on top of it. And, Powder Puff, who I call my little rascal, likes to jump on top of the shower rod, which is about an inch wide and walk around up there. She's only fallen off once into the shower and gotten trapped but she still loves to go up there until I make her get down.

• United States
16 Sep 07
Your cats are psychic and knew what you were looking for in those boxes. They love you and were just trying to help. They even went to Starbuck's and got you a gift card and stuck it in the mug. LOL That is funny that they made a huge mess and it actually helped you.

• United States
16 Sep 07
Thanks for the chuckle. They are helpful at times. Of course, a little later, one of them left me a not so fun package under the bed. She pooped and I had to use the broom to get it out. And, what was worse is that I kept smelling it when I was trying to go to bed so I decided to get up to make sure I'd gotten all of it. Sure enough, I missed a large piece that was directly under my side of the bed. Pewy!

• United States
17 Sep 07
LOL That's funny. They're probably saying to you "We were just trying to help!" LOL Maybe when you're looking for something else they'll find that too. Just ask them and they'll be looking for it and before you know it "POOF!" it's right there! LOL Enjoy your little fur babies!

• United States
17 Sep 07
Well, I give the credit for the good part to God but He certainly used the cats to help me out. I'm just glad they didn't break anything in the process because I have so many boxes in here. I'd love to get some other boxes all the same size and re-pack and rearrange all of these.

• United States
18 Sep 07
It might be a wise thing to do in getting the same size boxes. It might be a bit safer for your cats too.

• United States
16 Sep 07
My our cats often do us a world of good, with their mischievous antics and we don't realize it...I have a story--every once in awhile I do a thorough cleaning under my bed, which is no simple feat, as I have to pull off the mattress, push up the box spring if I want to do a good cleaning job. Well, I've been putting this lovely chore off for God knows when, but then my little angels had batted something under my bed and even with a broom or stick I couldn't reach it...so, I decided, okay, time to clean under the bed. Well not only did I find the toy the cats batted under there, but one of my nice Egyptian style brooch pins (very small) that I had been missing for months and thought maybe I had lost it....it's of no real value except sentimental, but I was sure glad to find it. As I was cleaning, though..I could swear both cats had smiles on their faces as if to say, "See mom, we did you a favor." Now if they only could help out with the cleaning...LOL

• United States
16 Sep 07
That's really funny. Make sure you read my response to the posts above to see what else they left for me. They are rather unusual little animals, aren't they?

• United States
16 Sep 07
That's funny about Powder Puff--and I used to have two cats, one called Powder, the other Puff...can't even imagine a cat being able to balance on top of a shower curtain rod!! TV yes, shower curtain rod, no


• United States
17 Sep 07
Inadvertently, they did help me out, though I could have done without the mess. Fortunately, it wasn't too bad.

• United States
17 Sep 07
Thats funny. Atleast you found some things yo had misplaced. See they did it for a reason. I love how animals look all inocent when they do something bad.