I love angels of all kinds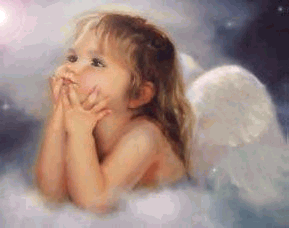 United States
September 17, 2007 12:59am CST
I love angels! I have pictures of angels young and old, male, and female, I have angel statues some light up, and I have angel pictures on myspace site. My husband yells no no more angels please I am surrounded by angels I feel like I am in heaven!
3 responses

• Philippines
17 Sep 07
Images of anges have a calming effect on people... i used to cross stitch angle pictures (the big ones) i gave them to the librarian of the school where i used to work and she took them to the U.S. when she migrated there with her husband...i love angels too... but the only picture that i have is the one of my daughter... she is my angel

• United States
17 Sep 07
She is a little angel! I have 7, and I have 6,and 1 more on the way grandchildren, however 1 of my grandchildren, my grandson James is my real angel, and the reason I singled him out from the rest is because, James was murdered, when he just turned 4 yrs. old. On 12/24/2004 James turned 4 yrs. old, and on 12/29/2004 James was killed. He was shot in the head by a 13 yr. old boy. That is why I love angels so very much, as well as teddy bears, and the story with teddy bears is I have his ashes in the teddy bear I gave him that Christmas, and James carried it with him where ever he went.

•
17 Sep 07
I also love angle, and I am fond of collecting images of angles. BTW, the picture you showed is very lovely. I like it!

• Philippines
22 Sep 07
I do love angels too.And I have plan to collect all kinds of angels pegurine or pictures of angels.Wish oneday i can start to collect.thank you so much and your angels will be with u always.god bless you!