The fall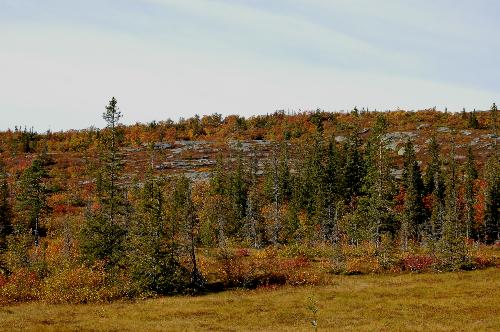 Sweden
September 19, 2007 5:44am CST
Today 09/19/2007 Its the real first day in the fall. When I woke upp this morning it was -5 celcius nice sunny weather with no wind. So I hawe to take a walk up in the mountin, it was so lovely to watch all the colurs and howe nature prepare for the winter. I'ts sad that I only can share one photo with you but one is better then zero.lol I hope you like it.
6 responses

• China
22 Sep 07
Well, Matte, Really like your place, since every season is so nice and different from each other. But in my place, the autumn would come and go without noise. Now it is already mid-autumn here but it is still like summer, very hot.... Andy

• United States
20 Sep 07
Beautiful picture. I'm so excited about fall. It's finally chilly here in the mornings and it's great! I finally need a jacket or sweater in the mornings. The leaves are starting to change on some trees. I can't wait to see some more of your fall pictures.:)

• Malaysia
19 Sep 07
Hello matte5, It is very unlucky for me (in certain way) for not having four seasons here in my country. Throughout the year, the weather will always be the same, sometimes hot sunny day and sometimes it rains. We don't have winter, fall, spring or summer. Your experience must be a great thing for me. However I am not really fond of winter but love to see the snow. Time passes really fast, right? It is already fall and then, winter will come again...

• United States
19 Sep 07
very nice picture and ooh so nice to walk up in the mountains,sounds great to me.hope all is well.pattie

•
19 Sep 07
How lovely that looks. You are lucky to be able to walk in the mountins like this on such a great day. It's raining hard today where I am in the north of England but then we do get a lot of rain here all the time.

• Philippines
25 Sep 07
It's really nice, wow! I love to see such places like that, i would like to come and visit that place. Where is that located? Unfortunately here, we can only see places with mountains, rivers, beach etc in provinces. That's why i love to come to provinces and appreciate the nature there. Thank you for sharing the photo with us here, it's beautiful indeed. Have a nice day ahead and happy posting and earning here in myLot. Godspeed, Kiko