Butterfly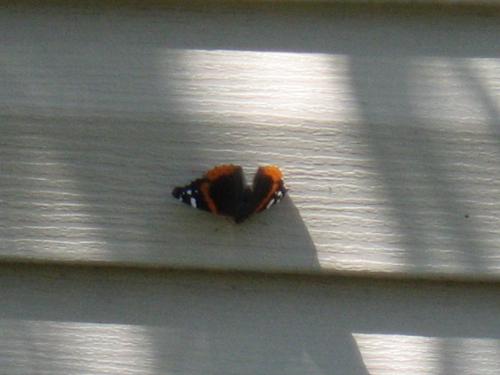 United States
September 19, 2007 2:45pm CST
During the early summer when all my lilies, astilibes, apple tress and other flowers were in full bloom my yard was full of bees and butterflies pollinating like mad. I took this shot of a Monarch that landed on my garages siding. It had landed right on my camera as I stood there. I wished someone had been here with another camera to get the shot of it on my lens. But this was suffiecient I felt. I forgot all about this photo it seems. Enjoy. HAPPY POSTINGS FROM GRANDPA BOB!!~
7 responses

• Australia
20 Sep 07
An attractive butterfly. I don't see that many here, except perhaps in spring. Quite a few flowrs are coming out now, & my front garden is looking better. Apparently New Guinea has the best butterflies in the world.

• United States
20 Sep 07
At the Minnesota Zoo they have an exhibit you walk into and there are literally thousands and thousands of different varieties and sizes of butterflies. They land on you even as you are walking around. It's beautiful. HAPPY POSTINGS FROM GRANDPA BOB !!~

• United States
19 Sep 07
The monarchs are migrating now to Mexico. I am having lots of them visiting my Summer Clematis. I have photos of the plant and plan to start a discussion about it. I hope I will be fortunate enough to get a shot of the monarchs on it as well. One of my friends on Gather sent in shots of the final destination of the Monarchs, she went on a trip there. It was awesome to see them hanging off the trees like so much tissue paper decorations.

• United States
20 Sep 07
i HAD TONS BY MY CLEMATIS, SEEDUMS, LAVENDAR AND ALSO THE BEEBALM. bUT THEY HAVE HEADED SOUTH FROM HERE. tHANKS FOR THE RESPONSE.

• Malaysia
19 Sep 07
Through my general knowledge about butterfly, most species are day-flying so they regularly attract attention....Thanks Grandpa Bob for providing that great photo of Monash Butterfly. Economically, butterflies are important by virtue of their being one of the major agents of pollination, in addition to a number of species which are pests on domestic crops and trees. Culturally, butterflies are a popular motif in the visual and literary arts. The adults, caterpillars and pupas of some species form part of the diet in many parts of the world. ..o..o..Grandpa Bob, a "myth" says, if butterfly or a group of them started their day-flying to or in our house giving and indicates that we are welcoming new good visitors in future day. Let see whether is it true or just a myth. HA! HA! HA! HA! HA!..get ready Grandpa Bob!!! Because in my life, that kind of indication never fails so far....let us see the prove, the good unknown new visitor!!! You see, Grandpa Bob!!! on typing my response(real time) to your discussion, one brown baby butterfly landing on my keyboard....HA! HA! HA!...LET US SEE HOW? :::michael:::

• United States
20 Sep 07
When my apple trees were in bloom there were days where I would see 10 or 15 butterflies on the blossoms. That's one reason I have various flowers as well to attract them to my trees for pollination. I have seen a few different varieties of butterflies but can't name the types. HAHAHA! I don't think I could eat a butterfly. Too pretty looking. HAPPY POSTINGS FROM GRANDPA BOB !!~

• United States
20 Sep 07
I do not seem to have the camera when I need it. When I get the camera the butterfly or subject is gone. Abigail my cat soaks her feet in my pool I can't seem to catch her with my camera.

• United States
20 Sep 07
It's saying look at me! Take a picture of me! I'm working really hard to make your yard really pretty so take a picture of me! LOL That's a cool picture Grandpa. Thanks for sharing it with us!

• United States
21 Sep 07
lets see if i can share my recent photo of a butterfly. my husband planted a butterfly bush in the front yard for me this spring and lately it has been drawing alot of different butterflies attention, though i don't know how to attach a picture to a post.

• India
21 Sep 07
very beautiful, just like your beautiful thoughts. love always and always, prayers, apple.