My lab, Jesse's story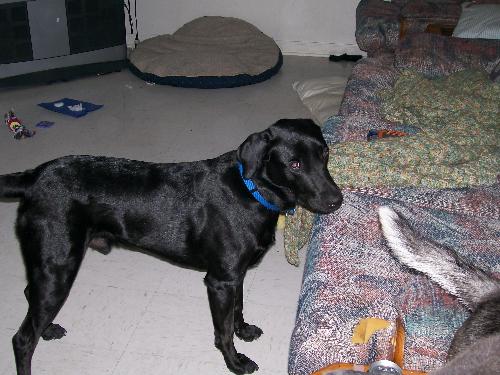 United States
September 19, 2007 11:44pm CST
I found an add on freecycle for a black lab pup around 6 months old. The lady said she just didn't want him anymore. She had taken him from a nieghbor who had abused him badly. When I got there, I couldn't leave him. He was only 22 pounds, you could see every bone in his body. They had beat him with a crow bar, ran him over with thier car, and tried to HANG him! He was the saddest, skinniest, ugliest dog I had ever seen, but I knew he was coming with me. For the first 3 days, he stayed right by me. Never barked, flinched a lot with my kids running around him, but never showed any aggression. I took him to the vet for the way he was walking (kind of like a bull dog). They did x-rays and found that his pelvis had been broken and never treated, so it healed back together wrong. He swings his butt from side to side. Jesse will be 2 in October, and he is the best dog anyone could ask for. He gaurds the house and yards, keeps rodents out, and acts as a horse and trampoline for the kids. He has never bared teeth, growled, or barked at anyone in my family, and he will lick you to death if you'd let him! He now weighs in at a whopping 85-95 pounds and is healthy and happy! His best friend is my 8 month old huskey pup, Tundra.
7 responses

• United States
23 Sep 07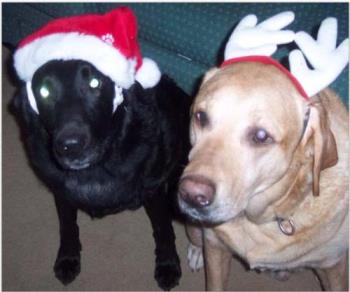 He is beautiful and he is lucky that you found each other. I love labs as you can tell. I think by nature they are just wonderful animals, they can't help but be loving. Mine aren't bad about the couch but they definitely bed sharks...they just walk around the bed with their chins on it, circling and waiting to hear come on up.

• United States
23 Sep 07
LOL! Jesse does that to my bed, but he knows he can't get up there. Because of the neglect he suffered, he sheds constantly! He has his own easy boy. No one sits in it because you can't see the tv from it, so he has taken it as his own. There is a dog bed that used to be his, but Tundra took that over when he took the chair!

• United States
24 Sep 07
Wow, your dog has it's own lazy boy. Lucky! My guys have beds all over the house, 2 in the living room, 2 in the family room, 1 in bedroom plus the queen size one that they let us use.

• United States
22 Oct 07
LOL! Jesse loves that chair......he lays in a ball, flips upside down and is head hagns off, but he is comfy, I guess, he is so strange sometimes!

• United States
20 Sep 07
I am so happy that you found a new friend with Jesse. I hope the people who abused him got punished for it. I love dogs and I don't understand how anyone can be mean to them.

• United States
20 Sep 07
They were punished severely. He was a higher ranking officer in the army, and they lived on the military post here. He was arrested and there was an investigation. They were kicked off post, charged with animal cruelty and had to pay a VERY LARGE fine. They are also not allowed to have animals for the next 5 years. You know what the reasoning behind the abuse was? They wanted a BIGGER dog, so they were going to kill him and get a mastif!! How sick is that??

• United States
20 Sep 07
I'm glad to hear that the people were punished. Many times that kind of abuse doesn't get punished, or they get a slap on the hand.


• United States
22 Oct 07
Thank you for your response! He is awesome, and my kids adore him!

•
16 Oct 07
Oh im so glad you found each other ! .... Some people dont deserve to be blessed with a pet ... he is a credit ! .... ive just got a choccie lab 6 months and he is the love of my life! .. well done you and well done Jesse

• United States
22 Oct 07
Thank you for your response.....I think I was the lucky one to have found him and brought his into our lives. He has been a great gift to us!

• United States
21 Sep 07
Oh poor Jesse!! He is a good dog for you because you helped him and took care of him. He is grateful for you. You did a great thing by taking him!! I hope the people who abused him got in some trouble for that!! They should have to pay animal abuse charges and should serve time in jail!!!

• United States
22 Oct 07
they did get into a lot of trouble. the military does not look kindly on abuse in any circumstance, human or animal! thank you for your response!

• United Kingdom
11 Nov 07
I am delighted that you rescued this poor dog. He came from such a terrible background of cruelty and aggression. I am sure the vet was horrified to see his x-rays of his wrongly healed pelvis. It is superb that despite this he can still walk. I am sure that he looks charming doing this. He has such a soft and kind personality. It is great he plays so well with your children. He came from a background that might of ruined his trust in people and given him vices like showing teeth, growing, barking or biting. I am so happy to hear that he has gone from only 22 pounds to a healthy 95 pounds. Wow! It is also wonderful that he gets on so well with your other dog, Tundra. Happy Jesse and congratulations tyo him finding a loving and caring home with you.

• United States
11 Nov 07
I truly feel for Jesse and what he had gone thru in his early years. He looks real good now and, from the look on his face, a lil stinker as well. lol Typical Lab looks. Like, 'I know I'm not allowed to butttttt...mommmmmmmmm'. lol