Nightgowns While going to bed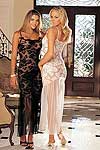 Pakistan
September 20, 2007 2:30am CST
I have been using sleep gowns before going to bed at night. and i felt this thing that the gowns of silk are quite comfortable as compared to cotton. i feel the silk gowns looks more sexy as compared to cotton gowns. and specially when your partner is wearing a silk gown and where ever it touches your body gives a sensation in your whole body. its my observation, your observation may be different? and i wanna know do you like cotton or silk night wears and does it generate any sensations in your body?
2 responses


• Pakistan
22 Sep 07
hey hey what you mean, do u really dont wear gown or sleeping dress, hows that possible? what do u wear than:P

• Indonesia
22 Sep 07
I just don't have a clue wearing silk before for sleep. I always wear my short and confortable t-shirt. I see those sexy in the malls beforeand yes its silkly soft fabrics, and its too expencive. Perhaps ill buy one when i achieve my goal to be a businnes women.

• Pakistan
24 Sep 07
hey hey ..nce to know that you wanna become a business woman. A tycoon. i hope your all wishes would come true and one day you will become a great business lady and i hope you are striving for that i mean not only thinking you are working hard too for becoming a great business lady:) and its good to know that shorts and t shirts is another option i agree and its comfortable too:) i like it