feet . . .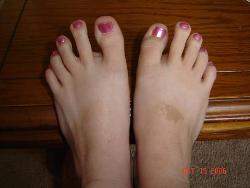 United States
October 27, 2006 11:31am CST
Does anybody else liek feet? I LOVE my feet. I love getting pedicures and making them look all prerdy . . .I think feet are a great part of the body:) I love wearing open toed shoes or sandlas because I love showing off my feet. They aren't callused up or nything . . . they are pretty feet:) I even have a little flip flop tan!!
3 responses



• United States
27 Oct 06
the only cute feet are baby feet. all other feet are just disgusting! Your feet have the pointer toe that is longer than the big toe which is gross. It is supposed to go big to small. Don't try and tell me this guardian angel crap either. Someone just told you a lie to make you feel better. You know I love you, but it doesn't mean I have to love your feet.